Seattle's minimum wage hike costing low-wage workers $125/month – study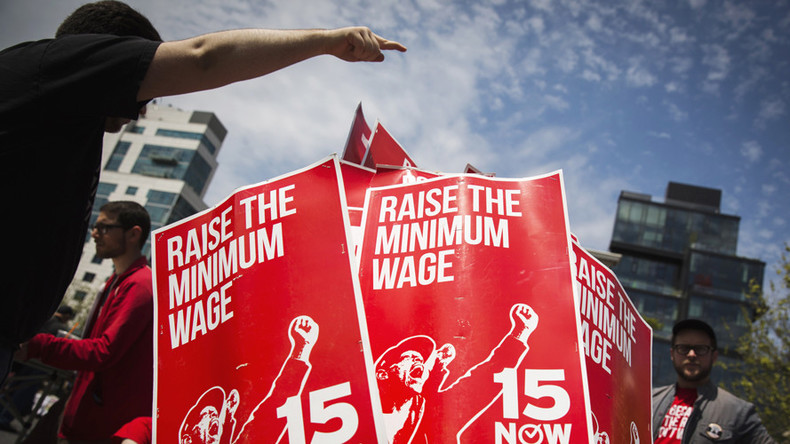 Officials in the city of Seattle meant to improve the lives of low-wage workers when they voted to raise the minimum wage, but a new study finds that the policy may have had an opposite effect on workers' income, hours and even the very jobs they needed.
The city commissioned a group of economists from the University of Washington for the study that reviewed the effects of Seattle's City Council vote in June 2014 to gradually increase the minimum wage to $15 per hour by 2021. It reached $13 per hour last year.
The researchers found that low-wage workers have lost an average of $125 a month. Some employers said that they were not able to meet the demands of higher wages, due to the increase.
The study has a huge edge over others from the past, and that is the fact that they had access to data from the state of Washington on workers' earnings and hours.
The findings were published as a working paper on Monday by the National Bureau of Economic Research. It has not been peer-reviewed as of yet, the Washington Post reported.
Critics of the newly released report point to the fact that the authors of the paper did not include larger businesses that have locations inside and outside of Seattle.
"Like, woah, what? Where did you get this?" Ben Zipperer, an economist from the politically left- leaning Economic Policy Institute, told the Washington Post.
READ MORE: Iowa governor blocks minimum wage hike approved in several counties
"My view of the research is that [the minimum wage hike] seems to work," he said, "The minimum wage in general seems to do exactly what it is supposed to do, and that's to raise wages for low-wage workers, with little negative consequence in terms of job loss."
The paper is gaining widespread acclaim, however, due to the use of extensive details that have not been applied in these types of studies in the past.
The minimum wage has become a popular issue in recent years, making national headlines for local campaigns. In November, Washington voted to raise the minimum wage to $13.50, the Seattle Times reported.
The study's omission of multi-location businesses means that there is a possibility of large fast food chain restaurants being left out, FiveThirtyEight reported.