'Era of strategic patience with N. Korean regime has failed' ‒ Trump to S. Korea president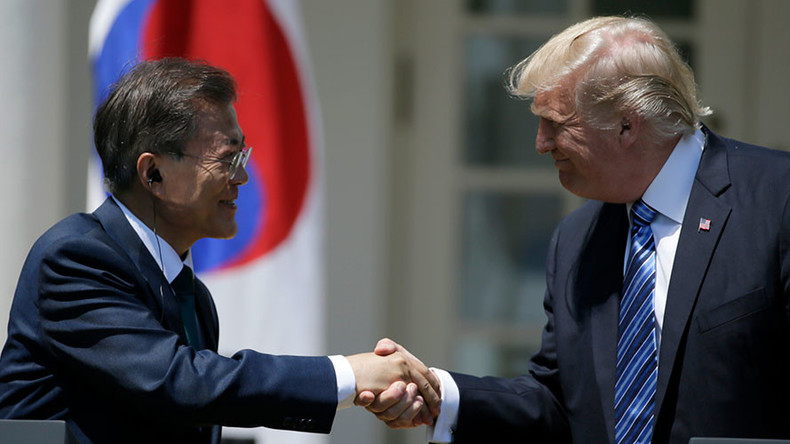 US President Donald Trump and his South Korean counterpart, Moon Jae-in, presented a united front against the "reckless and brutal regime in North Korea" during a joint statement, but that solidarity did not extend to trade issues between the two allies.
The two presidents gave a joint statement from the White House Rose Garden on Friday, on the second and final day of a US-South Korea summit. Trump and Moon discussed the rising tensions with North Korea, regional stability and a six-year trade agreement between the two long-time partners.
"The era of strategic patience with the North Korean regime has failed, many years that it's failed and, frankly, that patience is over," Trump said.
"The North Korean dictatorship has no regard for the safety and security of its people or its neighbors. And has no respect for human life ‒ and that's been proven over and over again," he added, referring to the recent death of "our wonderful Otto Warmbier," a college student who was arrested for stealing a sign and sentenced to 15 years of hard labor by Pyongyang.
The US and South Korea are working with other allies in the region, including Japan, and global partners "on a range of diplomatic, security and economic measures to protect our allies and our own citizens from this menace known as North Korea," Trump said, outlining the threat from the isolated nation's nuclear and ballistic missile programs.
"President Trump and I agreed that only strong security can bring about genuine peace," Moon said. "The threat and provocation of the North will be met with a stern response."
That response "will employ both sanctions and dialogue in a phased and comprehensive approach" to denuclearizing North Korea, he added.
In a Thursday meeting with House Speaker Paul Ryan (R-Wisconsin), Moon outlined how China can play a role in helping defuse tensions in the region, the Korea Herald reported.
"I think that China has made an effort after the US-China summit. I think that the fact that North Korea has not conducted a sixth nuclear test nor launched an ICBM is the result of President Trump's efforts, and the part Beijing is playing," Moon said.
However, relations between the US and China have recently taken a downturn. On Thursday, the Trump administration announced both sanctions on a Chinese bank and plans to sell Taiwan more than $1.4 billion in weapons. China's ambassador to the US reportedly said the deal goes against the "spirit" of talks between Trump and Chinese President Xi Jinping in April.
READ MORE: Saber-rattling: Naval drills, sanctions & weapon sales revive US tensions with China
Trump promised that the US "will defend itself, always will defend itself, always," and will always defend its allies. He then took the opportunity to use similar language to his lecture to NATO allies, saying that the US and South Korea are working together "to ensure fair burden-sharing in support of the United States military presence in South Korea."
"Burden-sharing is a very important factor, a factor that's becoming more and more prevalent, certainly in this administration," the US president said.
Trump then pivoted to the United States' $27.7 billion trade deficit with South Korea, saying that it had grown by $11 billion since the since the KORUS pact took effect in 2012, which he said was "not exactly a great deal." The lack of balance was the fault of former President Barack Obama, who signed the agreement in 2011, Trump claimed.
The US and South Korea are now "working to create a fair and reciprocal economic relationship," Trump promised, touting new investments by South Korean companies in the US.
South Korea must "create a level playing field so that American workers and businesses, and especially automakers, can have a fair shake at dealing with South Korea," Trump lectured, including opening up the country's marketplace to US companies and "stop enabling the export of dumped steel."
"These would be important steps forward in our trading relationship, very important steps. They have to be made. Not fair to the American worker if they're not. And they will be," he said, promising that the new deal will be "great for South Korea and great for the United States."
Moon promised Trump that Seoul would build up its capacity to defend itself, adding that the two countries' economic partnership is "an essential pillar" for the future development of their alliance. He also thanked the US president for being the first foreign leader to congratulate him on his election in May.
As thanks, Moon asked Trump to visit South Korea later this year, an invitation the US president "graciously accepted." The trip will "demonstrate not only our friendship but also the intimate bond our peoples have come to foster through thick and thin," the South Korean president said.