New Jersey high school to reprint yearbooks after student's Trump T-shirt was censored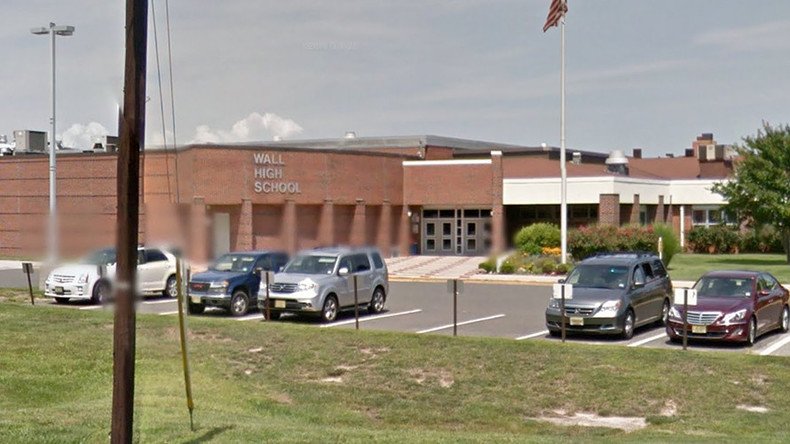 A New Jersey high school will reprint its yearbook to include an unedited photo of a student's Donald Trump T-shirt, the district superintendent has announced. The logo was edited out in the original version, causing the yearbook adviser's suspension.
Superintendent Cheryl Dyer made the announcement in a letter issued to parents of Wall Township High School students on Thursday.
"I cannot allow the intentional change that was not based on dress code to be ignored," Dyer wrote, as quoted by NJ.com.
READ MORE: Student suspended after filming professor who called Trump's election 'an act of terrorism'
"I am the chief school administrator in this district, and I take responsibility for the actions of those who are employed here. Therefore, I have determined that a re-issuance of the yearbook is necessary," she added.
The controversy surrounds a "TRUMP Make America Great Again" T-shirt worn by junior Grant Berardo.
"I thought it was pretty cool that this guy was running for president," Berardo told the Star-Ledger earlier this month.
However, Berardo was surprised to find that his shirt had been edited in the yearbook photo, making it look like he wore a plain blue T-shirt on picture day.
Berardo said he thought the edit was "kind of stupid."
"I mean, he is our president," Berardo said. "He's the president of the United States. How is that offensive?"
The yearbook's adviser, technology and media teacher Susan Parsons, has been suspended with pay amid a school district investigation into the matter.
Another student's Trump T-shirt was also edited out in the yearbook, though Dyer said that instance was a matter of standard re-sizing, which simply made the logo no longer visible.
However, a Trump quote selected by one student to appear under her photo was also edited out.
"I do not know if this was an oversight, carelessness, or intentional," Dyer wrote.
She went on to note that other non-political mistakes had been made in the yearbook, including the omission of students and class officers in certain photos.
"I do not believe that it is possible to create a yearbook of 248 pages, thousands of pictures, names, and lines of text and have it be error free," Dyer wrote. "I also think that reasonable people recognize that, but when the error pertains to them, they are rightfully upset."
She went on to apologize for all the mistakes made, promising to implement a system of checks and balances to prevent such problems in the future.
The controversy surrounding the edited photo and removed quote has angered both students and parents, particularly as Trump carried more than 60 percent of the votes in the community.
You can share this story on social media: