Student suspended after filming professor who called Trump's election 'an act of terrorism'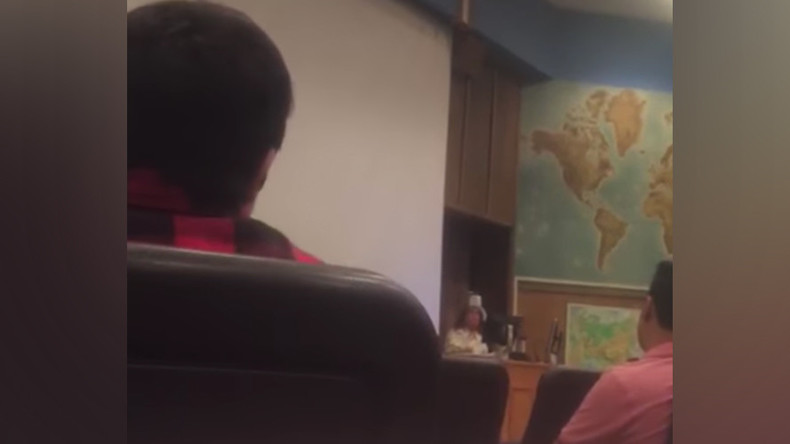 An Orange Coast College student has been suspended after filming professor who called Donald Trump's election 'an act of terrorism.' College authorities demanded that he write a letter of apology, explaining why he shared the video on YouTube.
The incident took place in December 2016, when freshman Caleb O'Neil filmed Orange Coast College professor Olga Perez Stable Cox calling Trump's election "an act of terrorism."
"Our nation is divided. We have been assaulted. It is an act of terrorism," she told the students during her human sexuality class.
The video was uploaded on YouTube and has since divided the public. The professor has reportedly received death threats.
Campus Reform, a news website focused on higher education, released the letter of suspension sent to O'Neil on Tuesday.
"You are suspended for a period of one full primary (fall/spring) semester in addition to summer term," the statement from the college authorities said.
Orange Coast College also called on him to write a "three page double space essay" apology to Cox.
In the essay, O'Neil should discuss why he videotaped his psychology professor, "knowing that it was a violation of the course syllabus," as well as his thoughts and analysis on why he decided "to share this video with others" and what he "thought would happen to the professor."
O'Neil also received an email from Interim Dean of Students Victoria Lugo, who said that the freshman was charged with violating the student code of conduct.
"This is clearly stated in the instructor's course syllabus in addition to the student code of conduct. When we spoke, you stated that you felt badly about the things that had happened to individuals as a result of this incident. It is my hope that this experience will lead you to truly think through your actions and the consequences of those actions when making decisions in the future," Lugo wrote.
On Wednesday, O'Neil filed an appeal to the college, according to Orange County Register newspaper.
"I pulled my phone out, because I was honestly scared that I would have repercussions with my grades because she knew I was a Trump supporter," said O'Neil, 19, who openly supported Trump. "I thought Olga [Perez Stable Cox] was a good teacher,"
According to Bill Becker, O'Neil's attorney, the sanctions are "excessive and discriminatory," Orange County Register newspaper reported.
Earlier in January, Cox, who calls herself "a woman, as a Latina, as a lesbian, as a refugee," defended her comments, saying that they were aimed to comfort students.