Protest Trump instead of taking final: Arizona college professor makes odd deal with students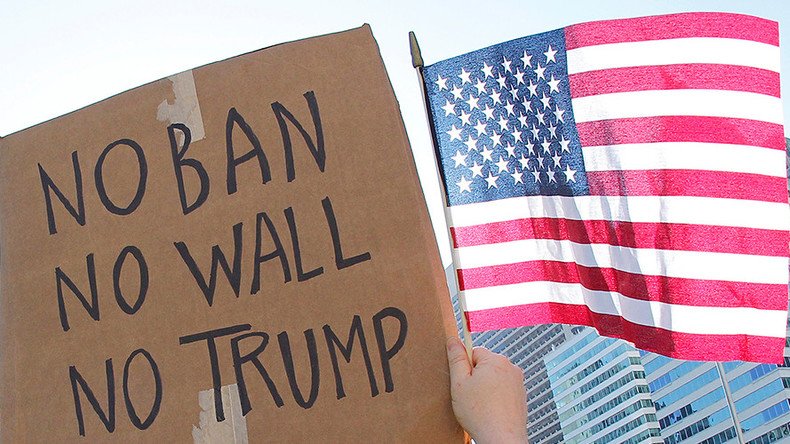 Anti-Trump rallies aren't uncommon on college campuses, but a recent demonstration at Arizona State University wasn't just about protesting the president's decisions. Instead, a professor allowed her students to hold the rally as a way to dodge an exam.
Although final exams are generally considered part of college culture, students enrolled in Professor Angeles Maldonado's Global Politics of Human Rights at ASU's Tempe campus were able to avoid the pesky formality.
Instead of taking the test, the students were given the option to create a class project, The Arizona Republic reported on Friday.
The group of about 20 students opted for the less difficult option, choosing to organize a protest in front of Hayden Lawn by ASU's library. The demonstration centered on US President Donald Trump's policies, including deportations and a call for a wall on the US-Mexico border.
"The class decided that as a group project they wanted to make their voices heard about the issues that are affecting them today, so instead of just reading about the human-rights violations, they'd speak out about the current violations that are happening," Maldonado told the Republic, adding that she felt it was her duty to support their decision.
So the students ditched their traditional classroom, making signs and standing shoulder-to-shoulder in a human wall on the university campus.
Video footage from the event shows students holding letters which spell out "Wall against hate," while shouting "No Trump, no KKK, no fascist USA!"
"No ban! No wall! Justice, freedom for us all!" was also chanted during the demonstration.
"This was something that we all got together and said we would express some of the things we don't like, so a lot of the other people here are protesting things like immigration, immigration ban, women's rights, things like that," Alex Corella, a student in Maldonado's class who participated in the protest, said.
Many other ASU students who weren't in Maldonado's class also joined the demonstration, highlighting issues including LGBT rights, women's rights, and Black Lives Matter.
When the group was asked by campus personnel to relocate because they were blocking students from walking on the sidewalk, they simply stood in a staggered line with about a foot between each person, rather than standing shoulder to shoulder.
Campus police were then called to the scene, and demonstrators began to link arms and walk back and forth across the lawn.
Police later stepped in to give a second warning directly to Maldonaldo, after students were having a difficult time navigating around the linked demonstrators. The protesters then moved to a more appropriate area, and the event continued without incident.
When asked about the protest by the Republic, ASU simply said that it "supports the free exchange and expression of ideas," and that the policy applies to "all students."
You can share this story on social media: