Harvard revokes student admissions for 'offensive messages' in private Facebook group – report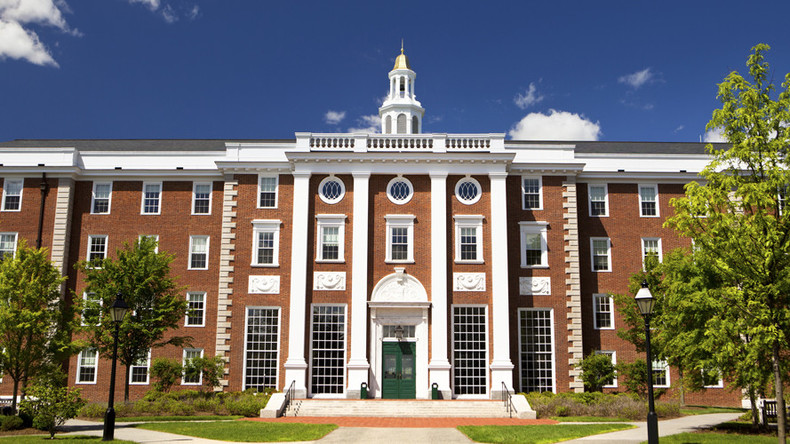 Harvard College canceled admission offers to at least ten prospective students of the Class of 2021 because of racist and sexually explicit memes they posted in a private Facebook chat, according to the a new report.
The individuals were informed in April that their admissions offers to the prestigious Ivy League institution were under review, then later rescinded, because they had posted memes mocking the Holocaust, sexual assault and child abuse, among other topics, in a private Facebook messaging group that was formed late last year, according to The Harvard Crimson.
The controversial Facebook group was an offshoot of a separate private chat, joined by around 100 prospective Harvard freshmen, that encouraged members to post memes about popular culture. Both groups accumulated members based on the Harvard College Class of 2021 Facebook group, an official group set up by the school for those who had been accepted to Harvard.
The chat group with the offensive memes – named, at one point, "Harvard memes for horny bourgeois teens" – split off from the pop-culture group to establish "a more R-rated" place for meme sharing, said Cassandra Luca, an incoming Harvard freshman who was part of the pop-culture meme chat but not the controversial group.
"They were like, 'Oh, you have to send a meme to the original group to prove that you could get into the new one,'" Luca, whose offer was not revoked, told The Crimson. "This was a just-because-we-got-into-Harvard-doesn't-mean-we-can't-have-fun kind of thing."
One meme cited by The Crimson called the hypothetical hanging of a Mexican child "piñata time," while many others targeted minorities and certain ethnicities.
Harvard administrators learned of the controversial meme group and, in April, notified students implicated in the chat that their admission status was under review, group members told The Crimson.
"The Admissions Committee was disappointed to learn that several students in a private group chat for the Class of 2021 were sending messages that contained offensive messages and graphics," the school's Admissions Office said in an April email to relevant students that was obtained by The Crimson.
"As we understand you were among the members contributing such material to this chat, we are asking that you submit a statement by tomorrow at noon to explain your contributions and actions for discussion with the Admissions Committee."
"It is unfortunate that I have to reach out about this situation," the committee added.
Harvard's Admissions Office runs the official Class of 2021 Facebook group. However, it says it is not responsible for "unofficial groups" and that prospective students can have their admissions offers revoked for certain behavior.
"As a reminder, Harvard College reserves the right to withdraw an offer of admission under various conditions including if an admitted student engages in behavior that brings into question his or her honesty, maturity, or moral character," the Admissions Office says in its description of the Class of 2021 Facebook group.
Rachael Dane, a spokeswoman for Harvard, told The Crimson and The Washington Post that "we do not comment publicly on the admissions status of individual applicants."
Harvard admitted 2,056 students to its incoming freshman class, just more than five percent of all those who applied. About 84 percent of them decided to enroll at the school.
This is the second straight year Harvard has addressed offensive messages online posted by potential students. "Graphics with offensive themes," including jokes about race, were the subject of a rebuke from Harvard administrators of prospective students to the school's Class of 2020.
"Harvard College and the Office of Admissions and Financial Aid were troubled and disappointed to see a conversation that included graphics with offensive themes," administrators wrote on the official Class of 2020 Facebook page.
No members of the Class of 2020 were disciplined for those messages, with the Dean of Student Life saying the individuals were "not matriculated students at this point," The Crimson reported.