Pepe the Frog officially declared dead, brace for meme meltdown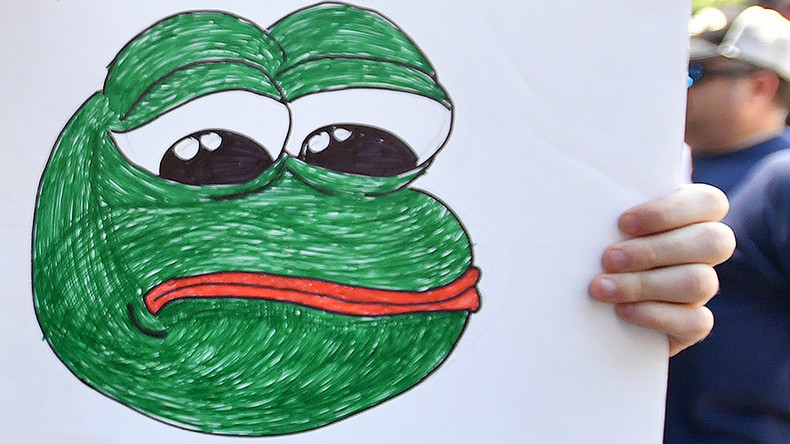 Reluctant 'alt-right' icon and weapon-of-choice for trolls, Pepe the Frog, has died. Citizens of the fictional internet kingdom of Kekistan are in mourning with outpourings of faux-grief, sardonic scorn and nihilistic disdain flooding in online.
Creator Matt Furie first introduced Pepe in 2005 as part of the Boy's Club cartoons, a series primarily aimed at the niche absurdist marijuana-smoking comedy market.
While Pepe began as an innocent character in Furie's unique blend of child-like wonder and dark, surrealist humor, it didn't take long before he fell in with the wrong crowd and his life took an irreversible turn for the worse.
Pepe's big break into the mainstream didn't come until the 2016 US presidential campaign. He tormented Hillary Clinton and her supporters night and day having been co-opted by members of the 'alt-right' on message boards such as Reddit and 4Chan. He then spread across social media – and even onto our television screens.
Clinton's campaign addressed the 'alt-right' mascot's rise to prominence on its website in a bizarre moment that perfectly encapsulated the absurdity of modern day politics in the US.
2016: The campaign where one candidate, in order to explain her criticism of another, had to post a meme explainer on her web site.

— Nick Confessore (@nickconfessore) September 13, 2016
Naturally enough, Pepe featured heavily as a key member of the so-called 'basket of deplorables.' This particular comment made by Clinton provided endless ammunition for the meme machine, even making an appearance on Donald Trump Jr's instagram feed.
Not one to miss an opportunity to infuriate his opponent, then-candidate Trump promptly joined the meme wars.
The Anti-Defamation League also declared the cartoon frog a symbol of anti-semitism in September, 2016 and added him to their 'Hate on Display' database.
Pepe was later employed by the 'alt-right' during the French election in a bid to put Marine Le Pen into the Elysée Palace, having apparently helped to gift Trump the White House.
The rockstar lifestyle of a global internet meme took its toll, however. Pepe was laid to rest on World Free Comic Book day, May 6 at a ceremony attended by his close friends, one of whom doused him in whisky. (Full strip available here).
Pepe is survived by his roommates Andy, Brett and Landwolf.
"It's completely insane that Pepe has been labeled a symbol of hate [...] but in the end, Pepe is whatever you say he is, and I, the creator, say that Pepe is love," Furie wrote in an article for Time magazine.
Furie was aghast at seeing his creation appropriated in such a way, despite initially believing it would be a short lived partnership between Pepe and the 'alt-right.'
Furie's #SavePepe campaign couldn't stem the tsunami of memes plaguing message boards everywhere but at least now, following the officially confirmed death of the cartoon frog, its creator may finally be able to wash his hands and move on from arguably his most famous creation.
However, given the intractable nature of a good meme, and the indelible mark left by Pepe on the US political process, one wonders if we really have seen the last of Pepe. Brace yourselves for 'Pepe lives' memes.