Kellyanne Conway trolled mercilessly for 'couchgate' photo in Oval Office
Published time: 28 Feb, 2017 17:18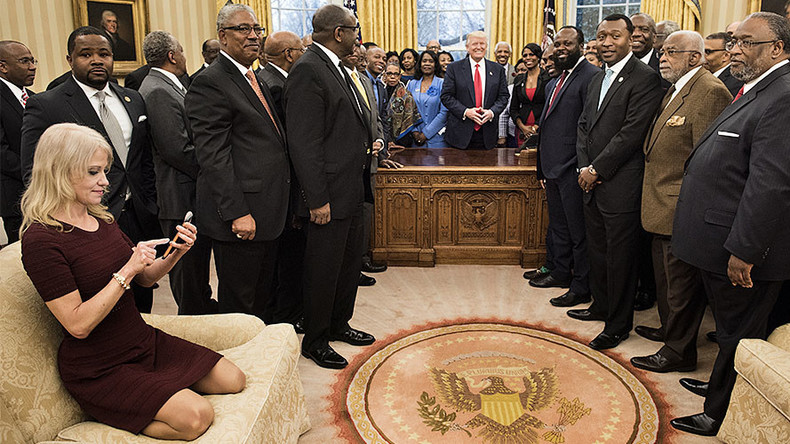 Kellyanne Conway has created quite the stir after photographs trended online showing the White House senior adviser with her feet on a couch in the Oval Office.
Conway was caught kneeling on a couch with her shoes on, after she had just taken a group photograph of Trump surrounded by leaders of black colleges and universities.
As news of Conway's 'couchgate' spread, many people appeared to be very offended by her disrespect. Some people were equally shocked that Conway appeared engrossed in her phone rather than paying attention to the people in the room.
Some implied it was particularly offensive in light of the guests present in the Oval Office, suggesting Conway's faux pas was race-related.
The photographs presented rife opportunity for jokes, with the fictional Bowling Green Massacre meme being revived. Others sought to put Conway's indiscretion into perspective.
READ MORE: 'Bowling Green massacre' trends following Kellyanne Conway's latest blunder
Many were quick to remind people of the horror Barack Obama caused when he was caught with his foot on the desk in the Oval Office...on more than one occasion.