US military orders design of combined human-robot squads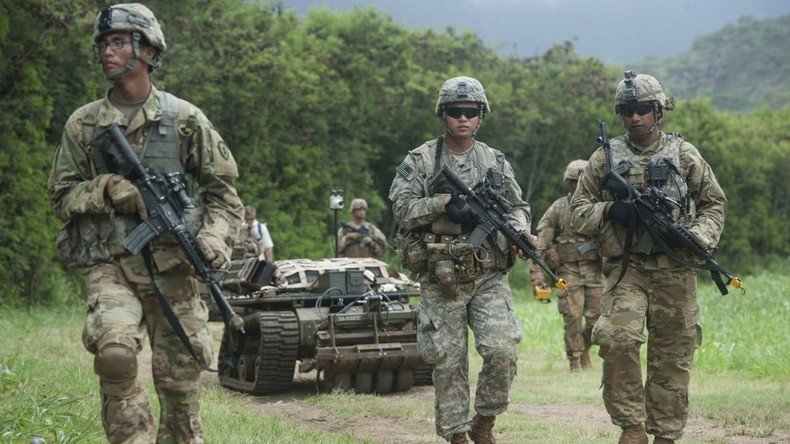 The Pentagon has ordered the design and development of a prototype combined-arms squad consisting of human soldiers and "unmanned assets" to maximize troops' performance on the future battlefield.
Virginia-based private company Six3 Advanced Systems was awarded an $11-million fixed-fee contract "to design, develop, and validate system prototypes for a combined-arms squad, which combines humans and unmanned assets, ubiquitous communications and information," according to a Pentagon press release.
Six3, a subsidiary to the major American defense contractor CACI International, provides sensor development and signal processing technologies for the US Intelligence Community and the military, according to Bloomberg.
The statement added the next-generation system should bring "advanced capabilities in all domains to maximize squad performance in increasingly complex operational environments."
The news follows scientific predictions that the future warfare will see extensive use of robotic platforms powered by artificial intelligence (AI) and equipped with next-generation weapons systems.
Combat robots and military-use AI solutions will become an inherent part of the US military within the next 10-15 years, defense experts say. Washington is apparently seeking to gain military edge over China, Russia and other rivals, who are also investing in research and development of robotic systems, as are US allies the UK and Israel.
John Bassett, a former British intelligence officer with a 20-year career with GCHQ, said last year the US attempts to employ thousands of robots in a matter of years.
"Intelligent robotic weapons – they're a reality, and they will be much more of a reality by 2030," Bassett said. "At some point around 2025 or thereabouts the US Army will actually have more combat robots than it will have human soldiers," he added.
The former intelligence expert mentioned upcoming unmanned trucks that would drive themselves and be more effective on the road than an ordinary manned vehicle.
"But some of them are rather more exciting than trucks. So we will see in the West combat robots outnumbering human soldiers," Basset explained.
In the meantime, Russia is also developing similar platforms to match the demanding requirements of the future battlefield. Earlier, the military has unveiled a number of versatile ground-based systems, including sentry drones armed with machine guns or bomb disposal robots. Russian military strategists also believe it is the robots that will shape the future look of war.
"I see a greater robotization, in fact, future warfare will involve operators and machines, not soldiers shooting at each other on the battlefield," Lieutenant-General Andrey Grigoriev, head of the Advanced Research Foundation (ARF) – viewed as Russia's analogue of DARPA – told RIA Novosti last year. "The soldier would gradually turn into an operator and be removed from the battlefield," he stressed.
Scientific minds and progressive entrepreneurs, meanwhile, warn of an increasing danger of deploying autonomous robots whose AI will be capable of making decisions.
"Artificial Intelligence (AI) technology has reached a point where the deployment of [autonomous] systems is — practically if not legally — feasible within years, not decades, and the stakes are high: autonomous weapons have been described as the third revolution in warfare, after gunpowder and nuclear arms," Professor Stephen Hawking, Apple co-founder Steve Wozniak and Tesla CEO Elon Musk wrote in a letter presented at the International Joint Conference on Artificial Intelligence in Buenos Aries.
You can share this story on social media: