US Army will have more combat robots than human soldiers by 2025 – former British spy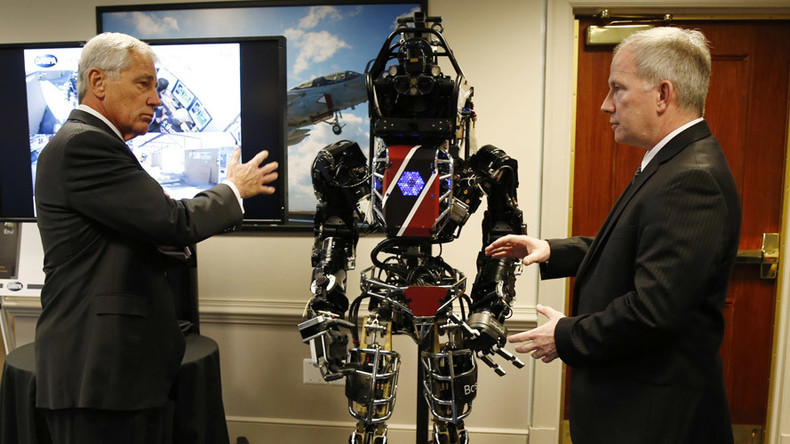 The US Army will have "more combat robots than it will have humans" by 2025, former UK intelligence officer John Bassett told officials at a counter-terrorism meeting in London, according to media reports.
Bassett, now a security consultant, with a 20-year career with GCHQ, spoke about US attempts to employ thousands of robots in a matter of years as it tries to stay ahead of the curve, the Express reported.
In March, DARPA beefed up the US underwater warfare capabilities with an autonomous state-of-the-art drone ship designed for things like hunting down enemy submarines.
In the same vein, Boeing in May launched an unmanned submarine that would engage in both exploratory missions and warfare. And the trend of a crewless ship isn't even strictly a military one anymore: Rolls Royce in June announced plans for "ghost ships" that would carry cargo and be implemented specifically in trade.
"Intelligent robotic weapons – they're a reality, and they will be much more of a reality by 2030," Bassett said. "At some point around 2025 or thereabouts the US Army will actually have more combat robots than it will have human soldiers," he added, mentioning upcoming robot trucks that would drive themselves and be more effective on the road than an ordinary manned vehicle.
"But some of them are rather more exciting than trucks. So we will see in the West combat robots outnumbering human soldiers," Basset continued.
It remains to be seen, but if the current submarine-hunting ship is indeed as good at tracking down enemy vessels, some major money could be saved and loss of life avoided.
READ MORE: Rolls Royce plans crewless 'ghost ships' for maritime trade (VIDEO)
Basset also recounted progress made in the sphere of AI, professing that "artificial intelligence, robotics in general, those will begin to mesh together."
Transhumanists have been particularly vocal about the benefits of employing robot help, among them US presidential hopeful Zoltan Istvan – also a journalist and transhumanist philosopher and futurist. He believes they'll be fit for combat duties in the next 10 years, and bets "there won't be any deaths of US soldiers in war zones" by then.
"There will still probably be special forces, but even they are going to have to be replaced at some point," he told the Express earlier in October. However, Istvan is wary of fusing combat robots with AI, as are many of today's thinkers. He believes "machines controlling machines" opens up the potential for an uprising.
This is not too unlike what Apple co-founder Steve Wozniak has been saying. Along with Tesla and SpaceX's Elon Musk, Stephen Hawking and other luminaries, they also believe a global AI arms race is underway. All claim that technology has become too advanced for humans to control – particularly the robots' ability to learn.
READ MORE: 'Kalashnikovs of tomorrow': Hawking, Musk, Wozniak warn of global AI arms race
And it's anyone's guess what the dangers would be if such weaponry ended up on the black market, they say.
You can share this story on social media: