US prepares to hunt enemy submarines with giant sea drone (VIDEO)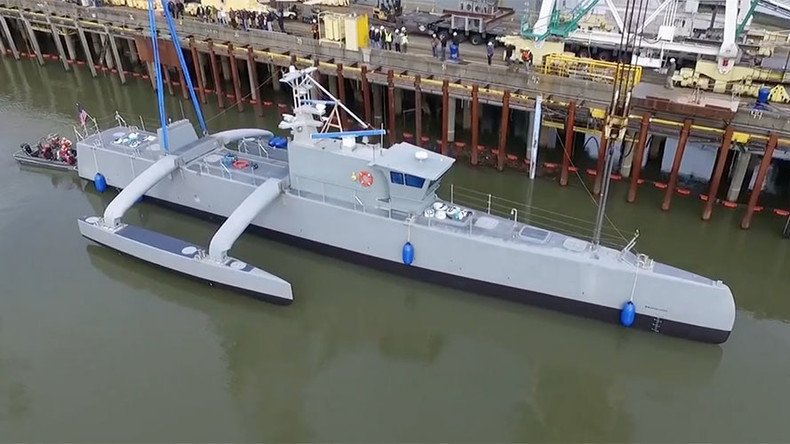 Pentagon's research agency DARPA has beefed up the US underwater warfare capabilities by launching a futuristic autonomous drone, designed to hunt down stealthy, silent enemy submarines.
The surface anti-submarine Sea Hunter, part of the ACTUV program, has already completed speed tests where it reached a top speed of 27 knots (50 km/h).
A fleet of such drones could join the US Navy by 2018, with engineering company Leidos citing an "underwater arms race" ‒ fueled by low-cost Russian diesel-electric submarines ‒ as one reason for its development.
American weapon-makers say that virtually silent underwater vessels pose a huge threat to the commercial shipping industry.
According to Rear Admiral Frank Drennan, of the US Anti-Submarine Warfare Command, trying to locate the partly battery-powered submarines is "like trying to identify the sound of a single car engine in the din of a major city."
Cue the launch of a 130-foot sub hunter, programmed to navigate seas and interact with enemies on its own.
As with many of its defense creations, DARPA has not commented whether or not the large unmanned ship will be equipped with weapons.
Leidos says the vessel is simply designed to shadow and chase enemies from "strategic waters".
One thing that is clear, however, is that the robotic vessel has the ability to ruthlessly pursue intelligent adversaries for months at a time.
DARPA reveal in the design stage that "non-conventional sensor technologies" were sought to help the robotic hunter "robustly track quiet diesel electric" subs over thousands of kilometers, without human involvement.
Video released by the weapons manufacturer shows the grey drone warship sailing from a dock in Portland, Oregon.
The ACTUV drone is due to be officially christened on April 7, and will continue open-water testing off the coast of California this summer.
You can share this story on social media: