US Navy SEAL plunges to death after parachute malfunctions in NY harbor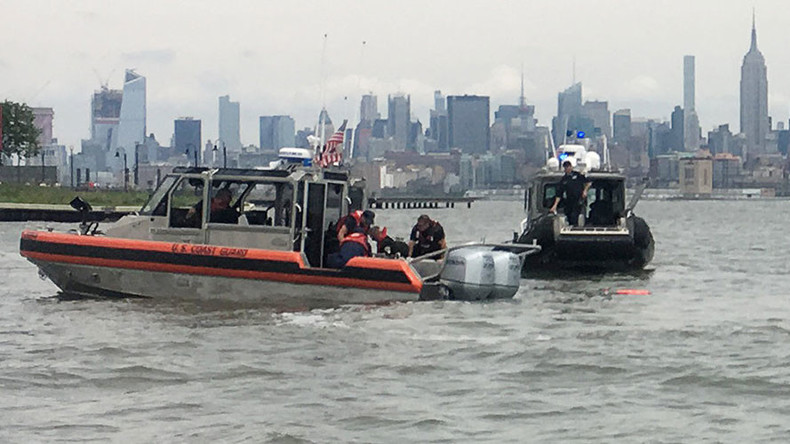 A member of the US Navy's elite skydiving team has died in front of thousands of spectators on Sunday after his parachute malfunctioned during an exhibition jump at Fleet Week festival in New York Harbor.
Four SEALs from the US Navy Parachute Team, the Leap Frogs, dropped out of a helicopter as part of the stunt, but one of the parachutes failed to open.
With so many spectators around, the incident was caught on camera, with the footage from the scene uploaded on social media.
"One of the team members' parachute malfunctioned. The Navy SEAL's parachute failed to open properly, and he landed in the water adjacent to Liberty State Park," USN Admiral Jack Scorby, the US Navy Commander of the Mid-Atlantic, was cited as saying by WABC.
READ MORE: Woman's parachute malfunction was allegedly husband's elaborate murder attempt
The Coast Guard pulled the serviceman out of the water and he was rushed to Jersey City Medical Center, where he was pronounced dead.
"I ask for all of your prayers for the Navy SEAL community, who lost a true patriot today," Admiral Scorby said.
The name of the deceased SEAL hasn't been disclosed pending notification of his family. The reasons for the parachute malfunction are currently being investigated.
READ MORE: Terrifying wingsuit crash caught on camera
"Almost the same time that they touched down in Liberty State Park we heard a splash and turned around very quick. I saw the water splash, and apparently there was a fourth parachutist," an eyewitness told Reuters.
The Leap Frogs were to descend on Liberty State Park in Jersey City, New Jersey as part of the stunt.
They were performing during the Fleet Week, which annually brings together dozens of US warships and thousands of servicemen to New York City.