Venezuelans top nationality seeking asylum in US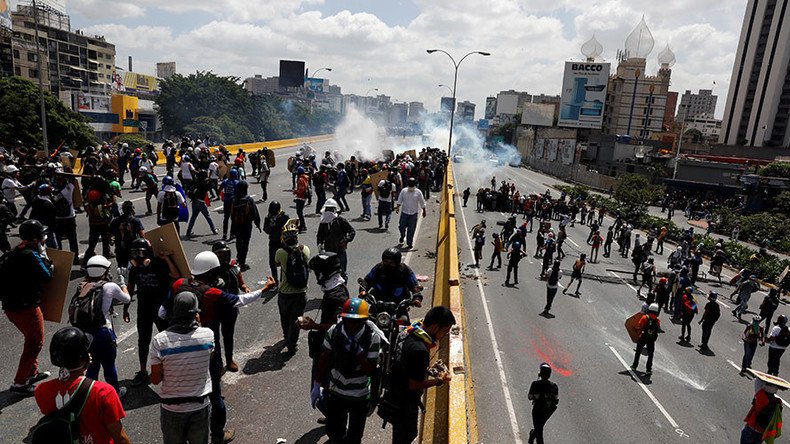 For the first time, the number of Venezuelans requesting asylum status in the US have surpassed applicants from China, Guatemala, El Salvador and Mexico. Venezuelan applications are expected to continue rising after a 160 percent increase in just one year.
In fiscal year 2016, Venezuelans seeking asylum in the US shot up 160 percent compared to the previous year, jumping from 5,605 to more than 14,700, CNN reported Tuesday.
US Citizenship and Immigration Services data reportedly shows citizens of Venezuela will likely continue driving up the record number of asylum applications.
Nearly 50 people have died during three months of protests against Venezuelan President Nicolas Maduro amid an economic crisis and subsequent turmoil.
The Venezuelan government blames foreign influence and international media coverage for fanning the flames of crisis in the country.
"The situation in Venezuela is that what has happened in the past two weeks does not affect a mere one percent of the country's territory, but it is being presented at the international level as though the country is at war," Venezuelan Foreign Minister Delcy Rodriguez told RT Spanish earlier in May.
The main goal of the ongoing protests was to create "a mess in our society" and violently oust Maduro instead of seeking new elections, the head of the commission for the National Constituent Assembly Elías José Jaua Milano told RT earlier this month, as the protest leaders are "not interested in taking part in the elections when the situation is politically, economically and socially stable."
READ MORE: Venezuela to import 60,000 tons of Russian wheat per month
Last week, President Donald Trump called the Venezuelan situation "a disgrace to humanity" and the US has placed sanctions on the country since Maduro expanded his executive authority following opposition victories in 2015 congressional elections.
The International Monetary Fund, which has not interacted with the Venezuelan government since 2004, warns that the country's currency is rapidly losing value with monetary inflation at 720 percent – the worst in the world and still worsening, the Financial Times reported.
Last year marked the first time US net foreign direct investment in Venezuela was negative, and during fiscal year 2015, Venezuelan citizens were among the top 10 nationalities overstaying their visas in the US, according to the Department of Homeland Security, the Financial Times reported.
READ MORE: Tear gas & pellets used in clashes at Venezuelan anti-govt protest, injuries reported (GRAPHIC)
Last month, Congressman Carlos Curbelo (R-Florida) re-introduced House Resolution 3744, the Venezuelan Refugee Assistance Act, which seeks to grant permanent residency to Venezuelan nationals who were present in the US on January 1, 2013, or in the country for at least one year and who were never convicted of specified crimes or involved in the persecution of others.
You can share this story on social media: