Tear gas & pellets used in clashes at Venezuelan anti-govt protest, injuries reported (GRAPHIC)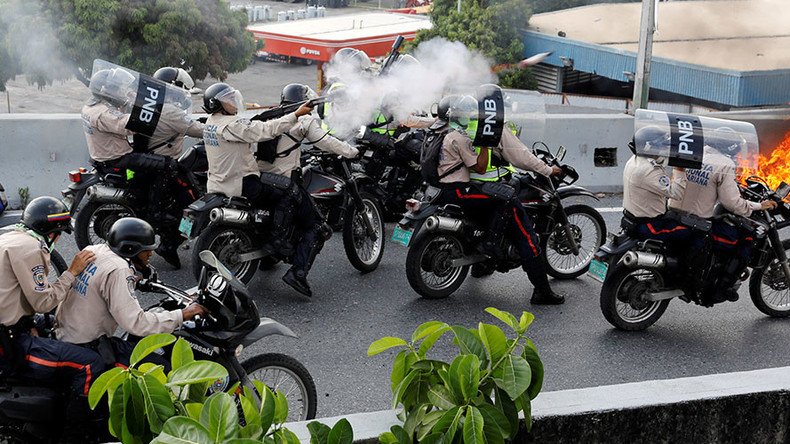 Anti-government protesters have shut down main roads and highways across the Venezuelan capital Caracas, leading to confrontations with security forces. Opposition activists claimed they were shot with pellets and have reported injuries.
A special police division, the DCDO, was dispatched to the La California area of the city on Monday, where protesters blocked the Francisco de Miranda Avenue with makeshift barriers of garbage and debris, according to El Nacional.
Tear gas was reportedly fired on protesters next to the Lider shopping center, and opposition activists on social media also claimed that demonstrators were shot at with pellets, leading to a number of injuries.
"We note that the Organized Crime Bureau (DCDO) of the PNB [the Bolivarian National Police], has no jurisdiction in public order and the management of demonstrations," PROVEA (Venezuelan Human Rights Education and Action Program), a Venezuelan human rights organization, wrote on Twitter. "Accusing demonstrators of 'terrorism' encourages more repression and may encourage the use of special brigades for repression."
Elsewhere, protesters also blocked the Francisco Fajardo highway, one of the most important transport hubs in Caracas.
Rival demonstrations are being held by both anti-government and pro-government groups. In Delta Amacuro, just outside Caracas, scuffles broke out.
Anti-government protesters are heeding a call by the Democratic Unity Roundtable (MUD) – a coalition of opposition parties – to block the main roads in the country in protest against the socialist government of President Nicolas Maduro.
"The government wants to use negotiations as a ploy to divide us, demobilize us, and win itself time," Freddy Guevara, Vice President of the National Assembly, told AP. "This protest is an exercise in resistance and a test of our conviction. It's crucial that we stay here all day."
Protests have been ongoing in Venezuela since March 29 after the Supreme Court ruled to take over the duties of the National Assembly, a ruling many saw as undemocratic.
Although the Supreme Court repealed the ruling three days later, this was not enough to assuage anti-government protesters. A number of these rallies have turned violent and 21 people have died in the protests so far this month. The latest casualty was a woman at a pro-government rally who was hit on the head with a bottle of frozen water.
The opposition has demanded the government hold fresh elections as soon as possible, but although Maduro has agreed, a date has yet to be set.
You can share this story on social media: