'Total lack of awareness': Elite NH boarding school bungled previous sexual abuse report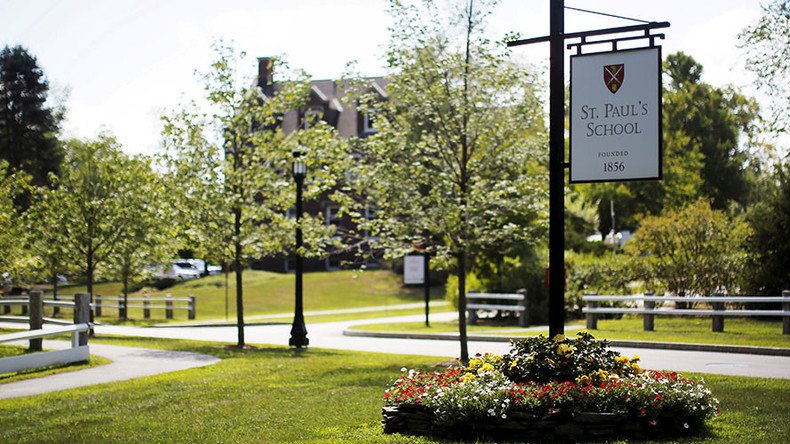 St. Paul's School in New Hampshire has become the latest elite boarding school to publish a report outlining "substantiated claims" of misconduct by former faculty and staff members and admitting the school failed to protect students.
At the request of the private Episcopal school, the Boston, Massachusetts-based law firm of Casner & Edwards conducted an independent investigation into 34 allegations of sexual misconduct by former faculty and staff.
Their damning 73-page report found 13 substantiated claims of sexual misconduct by former faculty and staff who were named, 10 other reports of sexual misconduct by former faculty and staff who were not named, and 11 unsubstantiated claims of sexual misconduct by current and former faculty and staff.
"Put simply but starkly, several former faculty and staff sexually abused children in their care in a variety of ways, from clear boundary violations to repeated sexual relationships to rape," the report said.
The school contacted the law firm last May after it was revealed that Reverend Howard Willard "Howdy" White Jr., a faculty member at St. Paul's from 1967 to 1971, had been identified as one of a number of faculty members at St. George's boarding school in Rhode Island who had engaged in widespread sexual abuse against students in the 1970s and 1980s.
White pleaded guilty last week in a Massachusetts court to molesting a St. George's student during trips to Boston in 1973, the Boston Globe reported.
A total of four St. Paul's alumni spoke with investigators about White. One of them described the reverend as a "predatory individual" who "molested" a friend of his.
Two women noted White's "misogynistic tendencies but also indicated that there were far worse individuals on the faculty at the time," the report said. Although the school had no documented complaints against White, investigators found that he sexually abused a 15-year-old student for an "extended period of time" while at St. Paul's, which they referred to Concord police in 2016.
Along with investigating any potential misconduct by White at St. Paul's, the firm was asked to scrutinize any other faculty and staff who may have engaged in inappropriate behavior or sexual misconduct with students. After speaking with school alumni, the investigators looked into 34 total claims that spanned from 1948 to 1988.
"While there was no single pattern or type of methodology used by former faculty and staff who committed these sexually abusive acts, the conduct collectively, the impact on the students, and the tolerance by those who had some understanding of the acts, as well as the total lack of awareness expressed to us by most of the other faculty and leadership, is all equally troublesome," the report read.
There were three incidents outlined in the report where the student and faculty member married each other "almost immediately following the student's graduation," including a scenario where the faculty member was married while having sex with the student.
In another case, the faculty member followed the student to her home country, where they married. "Within months of their marriage, the faculty member died at age forty-eight (48), and the student committed suicide at the age of nineteen (19)," the report said.
The investigators also reviewed a previous report on faculty misconduct from 2000. At that time, former students identified 22 faculty members who had engaged in sexual misconduct but only three of them were investigated.
Rector Michael G. Hirschfeld and Archibald Cox Jr., president of the board of trustees, issued a written apology released to the school community with the conclusions of the investigation.
"We offer our most sincere apology to survivors for the wrongs that were done to them at St. Paul's School," the two men wrote. "The failures uncovered in this report have hurt every member of our School community, none more so than the survivors of these abuses."
They also addressed the "inadequate" 2000 sexual misconduct report.
"There is no excuse for the failure to pursue allegations when they were initially made in 2000," the letter said. "That was an error in both priorities and basic judgment and it is important to correct those actions."
The investigation did not uncover any reports later than 1988, and the report noted that "beginning in 1995, SPS leadership began to undertake efforts to establish written policies on boundaries and sexual abuse and harassment, and to educate faculty on mandatory child abuse reporting laws."
Since 2000, however, the school has fired six faculty members "for boundary violations that did not rise to the level of sexual misconduct," the apology letter said.
The St. Paul's report comes on the heels of similar independent investigations at St. George's and at Choate Hall, an elite private boarding school in Connecticut once attended by John F. Kennedy. The inquiries were a response to a series of articles by the Boston Globe about sex abuse at New England private schools.
Elite boarding schools provide an opportunity for such sexual misconduct to occur because of their insular nature, Paul Mones, a lawyer who represents victims of sexual abuse, told the New York Times after the Choate report was published in mid-April.
St. Paul's will provide resources for survivors, noting that, while there is "no one-size-fits-all approach," in the past, the school has "provided survivors with resources to support counseling, and we have compensated them for their pain."
You can share this story on social media: