Karaoke over character: US Navy admiral sentenced in 'Fat Leonard' corruption scandal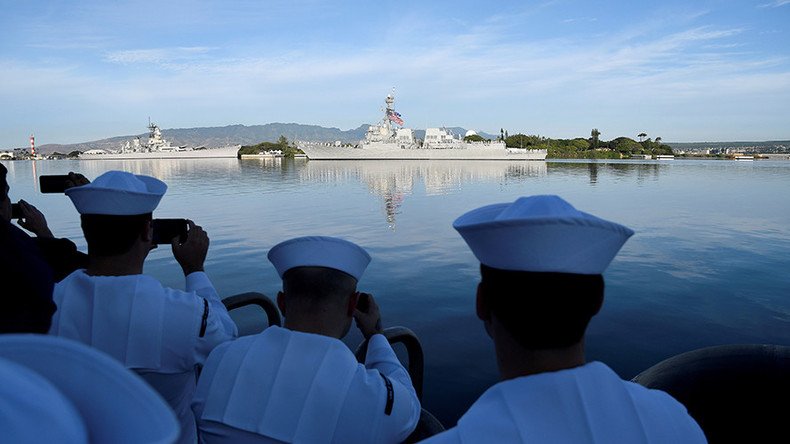 An admiral has become the highest-ranking US Navy officer to be sentenced in the massive corruption scandal involving a Malaysian contractor who overcharged the navy by as much as $34 million. Ten more cases are pending in the "Fat Leonard" affair.
Rear Admiral Robert Gilbeau was sentenced on Wednesday to 18 months in prison, three years of probation, 300 hours of community service, and $150,000 in fines and restitution to the US Navy, as part of a plea deal in which he admitted guilt for making false statements.
"You violated the law," US District Judge Janis L. Sammartino told Gilbeau as she handed down the sentence, according to AP. "You dishonored your shipmates, the Navy and the United States of America."
"This is the first time our nation will incarcerate a Navy admiral for a federal crime committed during the course of his official duty, and it is truly a somber day," acting US Attorney Alana W. Robinson said in a statement. "When tempted by parties and prostitutes, one of our most respected leaders chose karaoke over character and cover-up over confession, and in doing so he forever tarnished the reputation of a revered institution."
As part of his plea deal, Gilbeau admitted he lied to investigators about dinners he had with Leonard Glenn Francis, a major Navy supply contractor, and that he destroyed documents and deleted computer files in 2013, after Francis was arrested.
Francis, known to the Navy as "Fat Leonard," was president and CEO of Glenn Defense Marine Asia (GDMA), which serviced Navy ships for over 25 years and held more than $200 million in contracts with the US Seventh Fleet for several Pacific ports across Asia.
Gilbeau earned a Purple Heart and Bronze Star for his service in Iraq in 2007, and has suffered from post-traumatic stress (PTSD) after getting injured in a bomb explosion. He was accompanied in court by a "fluffy white dog," according to AP, which helps him cope.
While accepting responsibility for his actions, he told the court that the PTSD gave him a desire to "make self-destructive decisions."
According to the prosecutors, Gilbeau first met Francis in 1997, and did business with the Malaysian contractor for the next 16 years. On one occasion, as the supply officer of the carrier USS Nimitz, Gilbeau signed an invoice for wastewater removal that was the highest in the ship's history. Prosecutors accused Gilbeau of taking a $40,000 cash kickback from that transaction, which the admiral has denied.
Twenty current and former Navy officials have been charged so far. Ten have pleaded guilty, while another ten cases are still pending. Eight of the officers were charged in March, including the recently retired Rear Admiral Bruce F. Loveless, former deputy chief of the Office of Naval Intelligence.
Francis pleaded guilty to federal conspiracy charges in January 2015. Five GDMA executives have also pleaded guilty, according to the Department of Justice. Bribes that GDMA paid to Navy officers ranged from $600-per-night hotel rooms to $2,000 bottles of cognac and $25,000 watches – as well as prostitutes, orgies, and Lady Gaga concert tickets. One indictment mentions a 2007 sex party in Manila, Philippines, where "historical memorabilia related to General Douglas MacArthur were used by the participants in sexual acts."
Gilbeau's conviction is significant not just because of his rank. The supply officer was promoted in 2004 to head the Tsunami Relief Crisis Action Team in Singapore, and assigned in 2005 to the office of the Chief of Naval Operations, where he established policies and requirements for budgeting and acquisitions for the Naval Air Force, according to the DOJ. In August 2010, after his promotion to admiral, Gilbeau assumed command of the Defense Contract Management Agency International, where he was responsible for the global administration the Pentagon's most critical contracts outside the United States.
Several more admirals have been tarnished by the scandal. Vice Admiral Ted Branch, head of the ONI, lost his security clearance in November 2013. Rear Admirals Terry Kraft and Michael Miller were censured and forced into retirement in 2016, while David Pimpo was demoted to captain before being allowed to retire as well.
You can share this story on social media: