Drones, lasers & more ships: Top US admiral dreams of bigger, better navy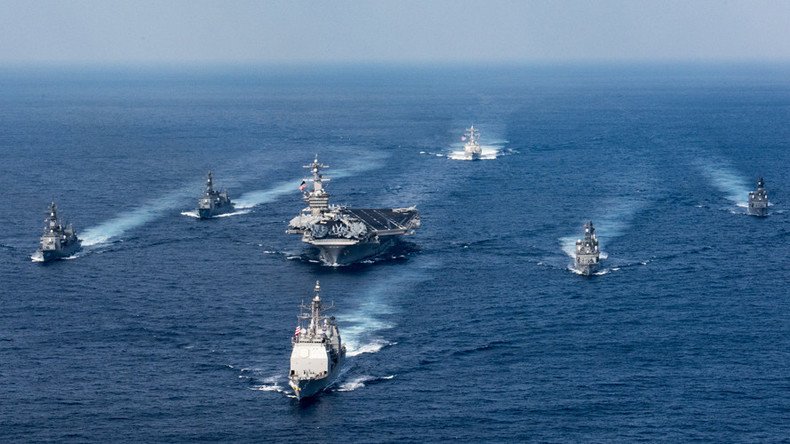 To adequately perform its mission in face of global challenges, the US Navy needs to expand to 350 ships and embrace innovations such as modular design, networks, drones and energy weapons – and do it very soon, according to the top US admiral.
"The fleet must be larger and more powerful," wrote Chief of Naval Operations (CNO) Admiral John Richardson in a nine-page white paper released Wednesday. "We need this more powerful fleet in the 2020s, not the 2040s."
Titled 'The Future Navy,' Richardson's policy document seeks to summarize the three most recent studies about the navy's shipbuilding needs, arguing that the "exponential" growth of challenges around the world and capabilities of potential enemies such as Russia, China and Iran demand a bigger fleet.
"Our advantage is shrinking," Richardson warned. "We must shake off any vestiges of comfort or complacency that our previous advantages may have afforded us, and move out to build a larger, more distributed, and more capable battle fleet that can execute our mission."
The US Navy currently has 275 ships, including surface combatants and submarines. About 30 percent of the fleet is presently deployed around the world and in local operations and training, according to Navy data.
Richardson argues that the US needs a navy "on the order of 350 ships," including 12 aircraft carriers, so that it can deploy up to six carrier strike groups "within relatively short time frames."
The US defense industry is capable of building 29 more ships and almost 300 more airplanes over the next seven years than the current plans envision, the admiral wrote. To help bridge the gap further, existing ships can and should be networked better and modernized with new weapons and technology.
"We must simultaneously build and innovate," the CNO wrote, advocating "a rapidly iterative approach to improving performance," including "far more agile" acquisition practices than the Department of Defense currently has.
Artificial intelligence, automation and directed energy weapons (such as lasers) were listed as "transformative emerging technologies" that could help the US Navy maintain its supremacy of the world's seas.
Shipbuilders should turn to modular platforms that could be easily upgraded down the line with new weapons, sensors and other combat systems, Richardson said.
"The 'core' of those future ships - the hull, and the propulsion and power plants - will likely be built to last for decades," he wrote, with a plan from the outset "to modernize the 'punch' – the combat systems, sensors, and payloads – at the speed that technological advances allow."
Designs need to "aggressively" drive down the maintenance and operations cost of the future fleet, "no matter its composition," he wrote.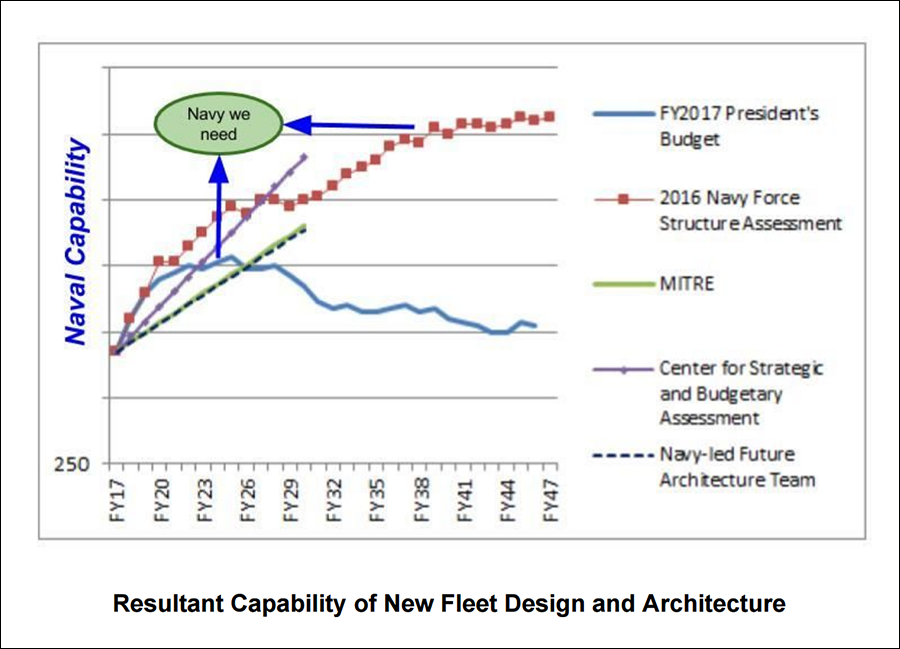 In April, the Congressional Budget Office estimated that the cost of building an additional 80 ships and operating a 355-ship navy would average to $102 billion a year through 2047. Though the Navy disagrees with the price tag, getting a larger, more powerful fleet would "require some resources to get there," Richardson told reporters in a conference call Monday.
You can share this story on social media: