Erdogan's guards may go unpunished after DC attack on protesters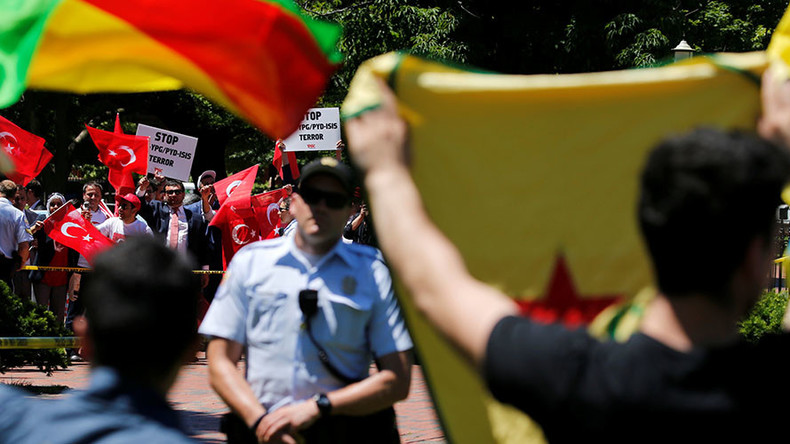 The US State Department has confirmed that Turkish President Recep Tayyip Erdogan's security detail was behind the attack on Kurdish protesters in Washington, DC Tuesday. Police believe there could be a diplomatic immunity issue.
The US is communicating its concern to the Turkish government "in the strongest possible terms," the State Department said in a statement about the attack. Twelve people were injured after protests outside of the Turkish ambassador's residence, DC Police Chief Peter Newsham announced in a press conference. One of those injured was a police officer, while all nine people hospitalized have been released. Two arrests have been made in connection to the attack, according to the Washington Free Beacon.
Read more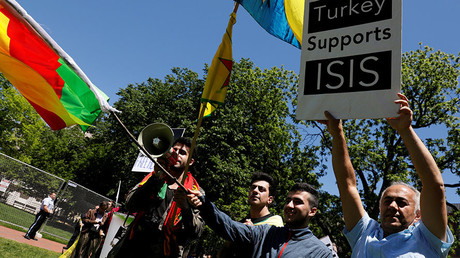 According to Newsham, "there could be a diplomatic immunity issue."
Reports say scuffles broke out on two separate occasions, at first instigated by a supporter of Erdogan wearing yellow, who allegedly pushed a woman down during an argument. Shortly thereafter, a brawl broke out but was disrupted by the DC Metropolitan Police Department (MPD).
When Erdogan's presidential security detail arrived, police had the Turkish nationalists and Kurdish protesters separated. Clashes again broke out after a man wearing a suit broke through the MPD's cordon and attacked a Kurdish man. After police lost control, a multitude of pro-Erdogan protesters rushed their opponents.
"Yesterday, we witnessed what appeared to be a brutal attack on peaceful protesters," Newsham said, adding that some of the pro-Erdogan group had firearms on them, compounding the difficulty faced by MPD officers.
Turkey's Anadolu state news agency reports that Erdogan's guards rushed in to disperse the protest because MPD "did not heed Turkish demands to intervene."
READ MORE: Arms for Kurds, sheltering of Gulen among gripes Erdogan bringing to talks with Trump
While the MPD is powerless to arrest or detain members of Erdogan's security detail due to agreements such as diplomatic immunity, they can be charged for those crimes, allowing officers to arrest them should they return to the United States in an unofficial capacity. The president also has the power to ban them entirely.
Though under a different US administration, Erdogan's last visit to Washington, DC was also not without incident. Last year, Erdogan's security officers fought with journalists as he delivered a speech praising democracy in Turkey. They physically removed one journalist from the audience and threw a female reporter to the sidewalk.
The same year, Erdogan was heckled by female protesters in Ecuador, leading to their violent expulsion.
READ MORE: Erdogan came away from Washington meeting with Trump 'empty-handed'
In 2011, Erdogan's security detail brawled with United Nations security officials, which ended in one being sent to the hospital in New York City.
The Turkish Embassy in DC accused the protesters of belonging to groups affiliated with the Kurdistan Workers' Party (PKK), which is a US-designated terrorist organization based in Turkey and Iraq. One of the activists told RT that she was protesting due to the imprisonment of journalists, academics, and leaders of the Peoples' Democratic Party (HDP), the third largest parliamentary party in Turkey.
Alexander Rubinstein, RT