Erdogan came away from Washington meeting with Trump 'empty-handed'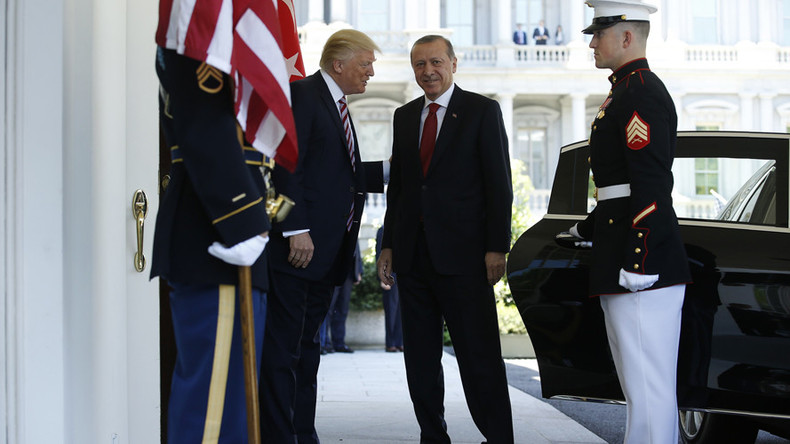 I think Turkey is going to have to take what it gets here, especially if the US does move forward with cooperation with Russia against ISIS and other terrorist groups. The Kurds are going to be essential to that, Jim Jatras, former US diplomat, told RT.
US President Donald Trump on Tuesday met Turkish President Recep Erdogan in the American capital.
The leaders of the two countries discussed a broad range of issues. Ankara and Washington's greatest disagreements are on the questions of Kurdish fighters in Syria and the extradition of Islamic cleric Fethullah Gulen.
RT: How would you describe the atmosphere of the Erdogan-Trump talks?
Jim Jatras: I would describe it as correct. I wouldn't call it cordial; I wouldn't call it hostile. But I don't think there was a whole lot of substance to it. I think Mr. Erdogan basically came away empty-handed, that's if you look at their comments after their meeting, which consists mostly platitudes. There were no questions taken that I don't think there was a whole out of agreement on much of anything; that Trump paid lip service to the idea that PKK are terrorists, but of course the YPG in Northern Syria; that the US is working closely with, the Turks consider terrorists. He's not going to get any movement out of Mr. Trump on that.
RT: Erdogan claims Turkey wants better ties with the US. But how possible is that, in view of Ankara's stance on the Kurdish military considered by America as a leader in the fight against ISIS. What chance for a successful partnership between Ankara and Washington?
JJ: I think Turkey is going to have to take what it gets here, especially if the US does move forward with cooperation with Russia against ISIS, Al-Qaeda, and other terrorist groups. The Kurds are going to be essential to that. And everybody in Washington knows that, and the Turks know that. The best that Erdogan can hope for is some kind of assurance from Washington that there will not be any further expansion of the Kurdish zone to the west, and that they will not be allowed to in any way threaten Turkish territory. Other than those kinds of assurances, I don't think that Mr. Erdogan could expect very much and he will have to go along with what's offered to him.
RT: It seems some journalists present were much more interested in US relations with Russia, not Turkey. Why is that do you think?
JJ: Of course, we're in another frenzy here with the entire media, which is very hostile to Trump are busy chasing their tails. We've got the story about classified information that Trump supposedly told Mr. [Sergey] Lavrov and Mr. [Sergey] Kislyak, the National Security Advisor, the Secretary of State – everybody has denied the accuracy of the Washington Post story. This is fake news by any account. They are running on with it, splitting hairs, every word, trying to find something they can throw at the White House.
Ammar Waqqaf, Director of Gnosos, a British think tank that focuses on crises in Syria and the Middle East
RT: What's your take on the latest visit of Erdogan to Washington?
Ammar Waqqaf: A large part of the Erdogan and Turkish leadership rhetoric is targeted domestically to their own electorate, to their own people to bring Turkish public opinion up to speed with whatever they want to do. Part of it is only a message toward the US. [Yesterday he was] in Washington – he would want to be as friendly as possible in order to get as much as possible from President Trump. He said Turkey would have to be a little bit cautious regarding the US… He is not going to pick up a fight with President Trump. He obviously knows that President Trump is not to be messed with in terms of rhetoric…
RT: The extradition of Fethullah Gulen still remains a key issue in Turkish-US relations. What do you make of it?
AW: In a sense probably the US recognizes that the entire Fethullah Gulen rhetoric and issue is more targeted toward the domestic affairs of Turkey, rather than as an international affair or dispute. They do not wish to concede on that, and they find it probably an opportunity for them to reinforce the image of their judicial system and the democratic values that they have: someone who is not convicted cannot be expedited, and so on, and so forth. This would go on for a long time, but for Turkey - or for the Turkish president – the more he uses the Gulen affair, the more he is able to mobilize part of the Turkish electorate behind him against others. We've seen that clearly during the coup d'état that happened a few months back. He's carrying on with the same way
The statements, views and opinions expressed in this column are solely those of the author and do not necessarily represent those of RT.
You can share this story on social media: