Chaos erupts as Turkish security team kicks out media, confronts DC police at Erdogan event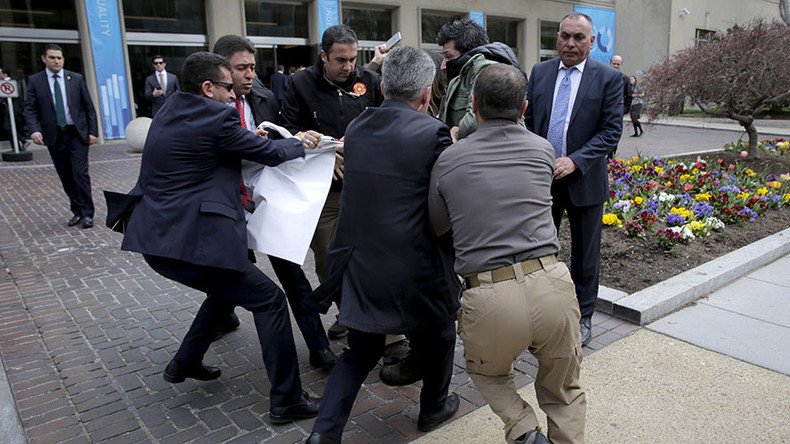 The security detail for Turkish President Recep Tayyip Erdogan clashed with opposing activists for the second day in a row in Washington, DC, removing journalists and even confronting city police after law enforcement refused to remove protesters from the area.
With Erdogan set to give a speech at the Brookings Institute on Thursday, a group of protesters opposing his crackdown on free speech in Turkey, his government's treatment of the country's Kurdish population, and what they say is his tolerance of Islamic State, gathered near the DC-based think tank to express their opposition.
The scene quickly devolved into chaos as demonstrators tried to get closer to Brookings, with journalists tweeting that Erdogan's security scuffled with protesters.
Erdogan's security detail became physical with reporters, removing one journalist from Brookings, kicking another, and throwing a female reporter to the sidewalk, according to Foreign Policy magazine.
Turkish bodyguards also told a cameraman that he is not allowed to film outside of the building. Another was chased across the street, while Foreign Policy said its reporters were scolded by security.
In another case, Erdogan's security reportedly called one female journalist "a PKK whore" for standing near the Brookings building.
At some point, staff from Brookings itself came out to escort some journalists into the building and shield them from harassment.
When protesters did try to cross the street to get closer to Brookings, District police had to stop traffic in order to keep them from getting tangled up with Turkish security. After police refused demands from Erdogan's men to remove the protesters, one reporter said the security detail was "pretty damn close to getting into fistfights" with law enforcement.
Afterwards, one DC officer said an Erdogan guard "just cursed at me in Turkish."
"You're part of the problem, you guys need to control yourselves and let these people protest," a DC officer reportedly told Erdogan's security.
By the time Erdogan's motorcade finally arrived at Brookings, the detail had placed a large black bus in front of the demonstrators so that they could not be seen.
The unruly behavior of Erdogan's guards comes just a day after they tried to drown out the voices of protesters by howling at them loudly. The strange offensive drew mocking reactions online and within Turkey, where the screaming guards got their very own hashtag: #ÖÖÖEEEEEEEAAAAAAĞĞĞĞĞĞHHHHH.
Erdogan's government has been criticized for various domestic abuses at home, including what Amnesty International has described as human rights violations against Kurds in the country. Turkey has also come down hard on media outlets critical of Erdogan, and has prosecuted journalists who have reported on the flow of weapons from Ankara into Syria.
You can share this story on social media: