ICE arrests nearly 1,400 in its 'largest gang surge' ever
Published time: 12 May, 2017 00:29
Edited time: 12 May, 2017 09:30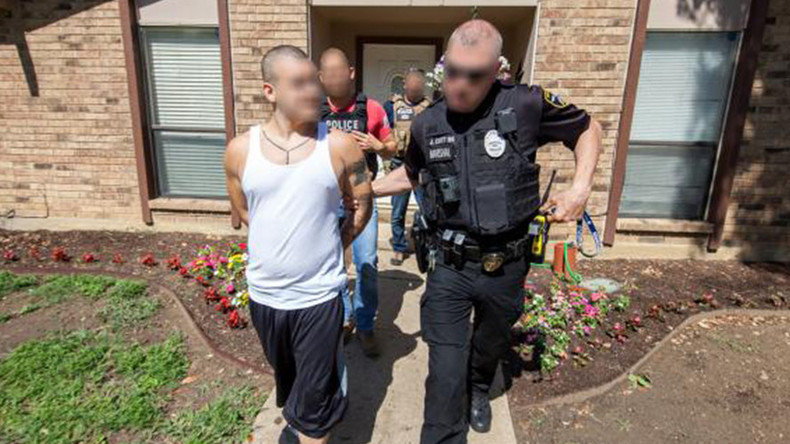 Federal immigration agents have concluded a six-week anti-gang operation, seizing close to a half-million dollars, almost 20,000 ounces of narcotics and over 200 guns, as well as making 1,378 arrests, the majority of whom were US citizens.
On Thursday, Immigration and Customs Enforcement (ICE) announced the "largest gang surge" to date conducted by its Homeland Security Investigations. It concluded with a total of 1,378 arrests made.
The operation targeted "gang members and associates involved in transnational criminal activity, including drug trafficking, weapons smuggling, human smuggling and sex trafficking, murder and racketeering," according to the press release.
Those arrested included 1,098 on federal or state criminal charges, with 21 arrested on murder-related charges and seven for rape and sexual assault.
A total of 280 individuals were arrested for immigration violations and will be "processed administratively for removal from the United States," Deputy Executive Associate Director Derek Benner said at a news conference.
The majority of the 933 arrested people were US citizens and 445 were foreign nationals from 21 countries in South and Central America, Asia, Africa, Europe and the Caribbean.
The targets of the operation were "involved in crimes that have an effect not only here locally, but nationally and transnationally," Brian Vicente, the assistant special agent in charge for Homeland Security Investigations in San Antonio, Texas, told the San Antonio Express-News. "We're focusing on gangs and organizations regardless of citizenship."
Three of the individuals arrested were previously under the Deferred Action for Childhood Arrivals (DACA) program established in 2012 under former President Barack Obama.
One of the DACA recipients already had their status removed, while the two other individuals are "in process of having that designation removed by virtue of the charges," according to Benner.
According to ICE, the Department of Homeland Security (DHS) has terminated deferred action for roughly 1,500 DACA recipients due to criminality or gang affiliation concerns since the program was established.
ICE did not provide any information on how many of the individuals arrested were in the US illegally, however, they did say that 10 individuals arrested during the operation had crossed the border as unaccompanied minors. Nine of those individuals were identified as gang members by ICE.
The majority of the arrests, 1,095, were confirmed by ICE to be gang members or affiliates of a gang, including, 137 affiliated with the Bloods, 118 with the Surenos, 104 with MS-13 and 104 with the Crips. The remaining 283 claimed no affiliation with any gangs but were arrested for gang-related activities or had tattoos that identified them as being a gang member.
"Let me be clear, that these violent criminal street gangs are the biggest threat facing our communities," Homan said in a press conference. "This is one of our highest priorities and will remain so."
Last month, President Donald Trump blamed "weak illegal immigration policies of the Obama Admin" for allowing the MS-13 gang to form in America, adding that his administration is "removing them fast!"
The weak illegal immigration policies of the Obama Admin. allowed bad MS 13 gangs to form in cities across U.S. We are removing them fast!

— Donald J. Trump (@realDonaldTrump) April 18, 2017
During the ICE operation that lasted from March 26 to May 6, federal and local law enforcement agencies seized $491,763 and 238 firearms. In addition, ICE says they seized various narcotics, including 8,019 ounces of marijuana, 790 ounces of cocaine, 546 ounces of methamphetamine and 113 ounces of heroin during the operation.
The largest operations took place in Houston, New York City, Atlanta, and Newark.
The operation was conducted as a part of Operation Community Shield, which targets gang members to "eradicate the violence they inflict upon our communities and stop the cash flow to transnational organized crime groups," according to the press release. Since 2005, more than 47,000 gang-related arrests have been made under Operation Community Shield.
A similar operation, dubbed Project Shadowfire, was conducted in March 2016. That operation netted 1,133 arrests, most of them were also US citizens, with 239 identified as foreign nationals from 13 countries.