At least 14 arrested during May Day rally in New York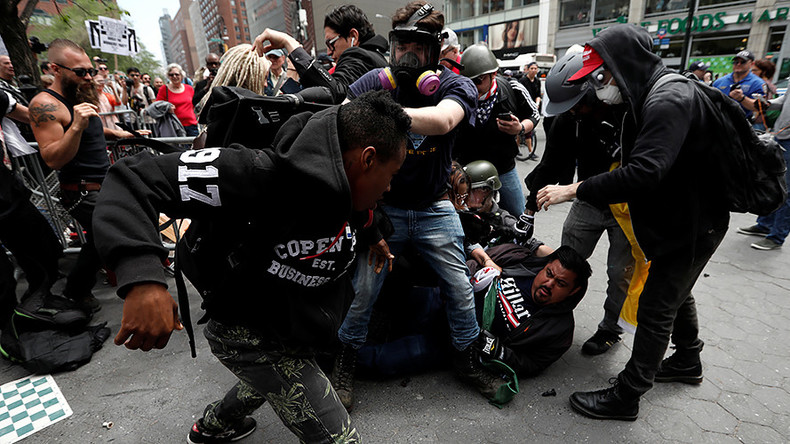 At least 14 have been arrested during a May Day rally in New York after blocking the entrances to banks JP Morgan and Wells Fargo. Thousands of people are taking to the streets across the US as part of May Day demonstrations.
People are rallying to protest the Trump administration's immigration policies that have ICE raids all across the country, and supporting workers rights that have led to mass arrests.
In New York City, hundreds of labor and immigrant advocates gathered on Monday morning in midtown Manhattan's Bryant Park before marching to J P Morgan and blocking the entrance to the doors, where they unfurled a banner than read "Your profits, our pain."
Organizers like Make the Road, said banks are some of the corporations who are making profits from the building of private prisons and immigration detention centers used to hold detainees.
NYPD arrested at least 12 people, according to Daniel Altschuler, the director of civic engagement and research at Make The Road.
A spokesman for the NYPD could not confirm the arrests or offer any information about the charges, but an alert notice said at least 14 people were arrested.
From JPMorgan Chase, protesters then moved on to the offices of Wells Fargo, at Lexington Avenue and 42nd Street. No arrests were made at this location.
Protesters marched through the big department store Macy's dropping banners that read "Slave labor has always been in fashion."


Several other rallies are planned in the city, including an afternoon event in Washington Square Park. There will also be marches in Union Square and Foley Square, with Mayor Bill de Blasio among the speakers.
Tens of thousands of immigrants and their allies are expected to rally in Chicago, Seattle and Los Angeles, while demonstrations also are planned for dozens of smaller cities from Fort Lauderdale, Florida, to Portland, Oregon.
Washington, DC
In many places, activists are urging people to skip work, school and shopping to show the importance of immigrants in American communities.
While union members traditionally march on May 1 for workers rights in countries around the world, the day has become a rallying point for immigrants in the US since massive demonstrations were held on the date in 2006 against a proposed immigration enforcement bill.