Children's hospitals see suicidal thoughts & actions double in last decade – study
Published time: 8 May, 2017 16:35
Edited time: 10 May, 2017 06:44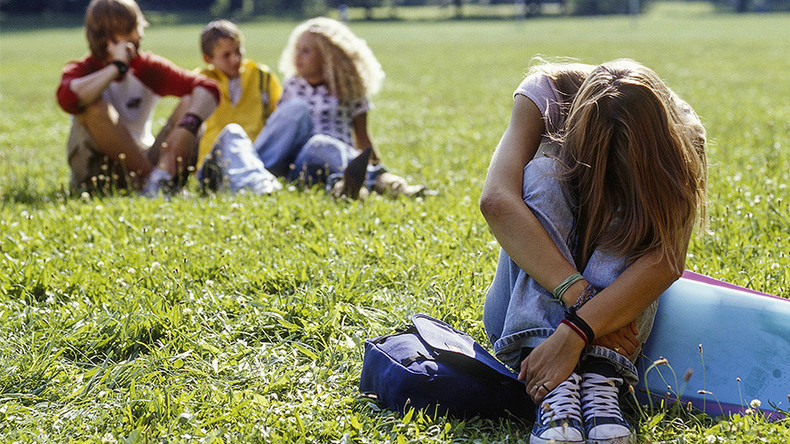 The number of children ages 5 to 17 who were diagnosed with suicidality or major self-harm more than doubled from 2008 to 2015, according to a new study based on data from 32 children's hospitals across the US.
In total, there were 118,363 instances in which children were discharged from a children's hospital with a diagnosis of suicidal thoughts or serious self-harm, according to an analysis of data that included emergency and in-patient information.
Children ages 15 to 17 made up more than half of those patients (59,631), while 36.9 percent (43,682) were ages 12 to 14. Children ages 5 to 11 accounted for 12.7 percent of the total diagnoses at children's hospitals.
Over the course of the period analyzed, the annual percentage of all children's hospital encounters involving suicidality or serious self-harm more than doubled, from 0.67 percent in 2008 to 1.79 percent in 2015.
Possibly more alarming are the steady increases in such diagnoses among all age groups, especially teens. Children ages 15 to 17 had an average annual increase of 0.27 percent. Those ages 12 to 14 had an average annual jump of 0.25 percent, while such diagnoses of 5- to 11-year olds went up 0.02 percent annually, according to the study.
The study, title "Trends in Suicidality and Serious Self-Harm for Children 5-17 Years at 32 U.S. Children's Hospitals, 2008-2015," was first presented on Sunday at the 2017 Pediatric Academic Societies Meeting.
Its lead author, Gregory Plemmons – an associate professor of pediatrics at Monroe Carell Jr. Children's Hospital at Vanderbilt University – said his research mirrors data recently reported by the US Centers for Disease Control and Prevention (CDC).
"We noticed over the last two, three years that an increasing number of our hospital beds are not being used for kids with pneumonia or diabetes; they were being used for kids awaiting placement because they were suicidal," Plemmons told CNN on Friday.
Suicidal thoughts and serious self-harm were more prevalent among children at the beginning and ending of school years, the study found. There were decreases in such cases during the summer.
"When we looked at the number of kids awaiting placement or admitted at one time, month by month, there is a huge difference in the months," Plemmons said. "Certainly, the month of the year that is the lowest for suicidal thoughts and ideation is July. And we see those numbers creep back up right when school starts."
A number of factors could explain the increase in suicidal tendencies as of late, but concrete reasoning for more suicidal children is still unclear, Plemmons said in a news release.
"Research to understand factors contributing to these alarming trends is urgently needed," he said.
The study did not include actual suicides among children. The CDC found that in 2014, suicide was the second-leading cause of death for those between the ages of 10 and 24. The rate of suicide deaths among those between ages 10 and 24 has doubled since 2007, the CDC said in November.
A separate study presented at this year's Pediatric Academic Societies Meeting found that more than 5,800 children – or about 16 per day – were hospitalized with gun injuries in 2012. Over half of the injuries were considered "unintentional," while others were categorized as a result of a violent assault or a suicide attempt. The majority of injured children lived in an area of the US within the bottom 25 percent of median household income.
Meanwhile, a study released late last year found that the number of children and adolescents hospitalized for prescription opioid poisoning more than doubled from 1997 to 2012.
The American Academy of Pediatrics – one of the organizations responsible for the annual Pediatric Academic Societies Meeting – opposes the American Health Care Act, the Republican effort in Congress to "repeal and replace" the Affordable Care Act, or Obamacare. The AAP says the bill passed by the House of Representatives last week will harm overall child health care in America.
"[T]he bill hinders states' and families' ability to provide and access care," the AAP said last week. "These are not improvements to our health care system; they are setbacks that would have real consequences for children."