Man sues American Airlines for $74k after sitting next to 'grossly obese' passengers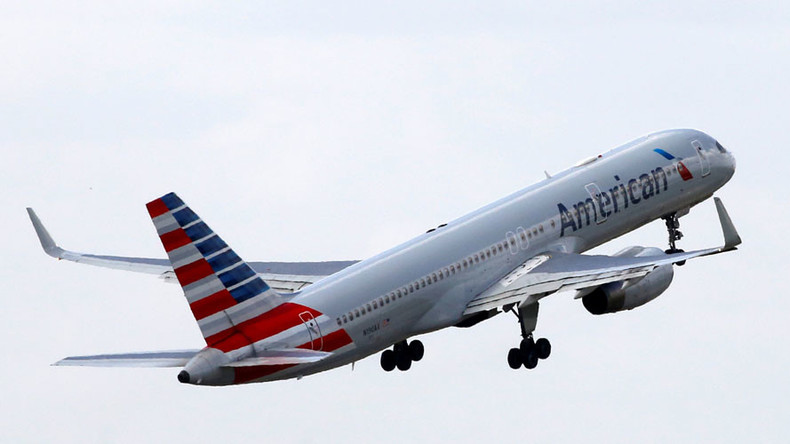 An Australian man is suing American Airlines for AU$100,000 (US$74,080) after being forced to sit next to "grossly obese" passengers on a long-haul flight. He claims he was forced to contort his body into positions which aggravated an existing back problem.
Michael Anthony Taylor of Wollongong, New South Wales, shared a row with two "grossly obese" passengers on a flight from Sydney to Los Angeles in December 2015, according to documents filed in court.
The body of the passenger seated next to him "spilt over and encroached" into his seat, according to the documents.
"His wife leaned on him, because there was enough room for him, then he went like this on me, and when he put his head on me, I said, 'It's not enough that you're in my seat, but you're also want to sleep on me!'" he told 7 News.
He claims he was forced to "contort his body into a series of positions including standing up, crouching, kneeling, and leaning forward," according to the documents.
Taylor, who was seated at the window, claims he experienced pain, injuries and discomfort during the 14-hour flight. He also says he has since suffered back injuries, neck pain and injuries, ongoing discomfort, and aggravation of pre-existing scoliosis (curvature of the spine).
Taylor's lawyer, Thomas Jansen, says his client repeatedly asked to change seats, but was not allowed.
"Mr. Taylor asked the cabin crew on numerous occasions if he could sit in another passenger's seat, or sit on one of the crew seats, or sit in the aisle or even to sit on the toilet seat to alleviate the pain and discomfort that he was suffering from. One each occasion, he was refused and rebuffed," Jansen said, as quoted by news.com.au.
"As a result of the fact that American Airlines failed to reseat him or even offer a viable alternative, he suffered bodily injuries by contorting his body within the cramped space caused by the intrusion of the grossly obese passenger sitting next to him."
READ MORE: Giant rabbit dies mysteriously on board United Airlines flight
Taylor told 7 News that the flight crew merely laughed at him when he suggested sitting on the toilet to alleviate the pain.
"To have someone know that you're in that kind of stress, and treat you like you don't even exist," he said, fighting back tears.
The lawsuit coincides with American Airlines announcing earlier this week that its new Boeing 737 Max jetliners will be cutting the leg room in economy class in order to make way for more seats. Some rows will see legroom reduced by two inches (5.08 centimeters).
Taylor's lawsuit comes amid a flurry of airline-related lawsuits and controversies, the most recent of which saw Delta Airlines staff misquote rules and regulations governing overbooked flights as they removed a family from one of its services over an incident regarding their infant sitting in an empty seat which they had paid for.
Last week, a man was also kicked off a Delta Airlines flight for using the bathroom while a flight was delayed on the runway. A video of the incident showed the passenger saying he had no choice but to go to the toilet, as it was an "emergency."
Also in April, a video showed an American Airlines flight attendant in a verbal scuffle with a passenger, after a mother on board accused the staff member of hitting her with a stroller.
And in a case that made international headlines, a video showed a man by the name of Dr. Dao being violently grabbed and dragged off a United Airlines flight by authorities, after the airline told him it was mandatory for him to give up his seat because the flight was overbooked and his space was needed for staff.