Giant rabbit dies mysteriously on board United Airlines flight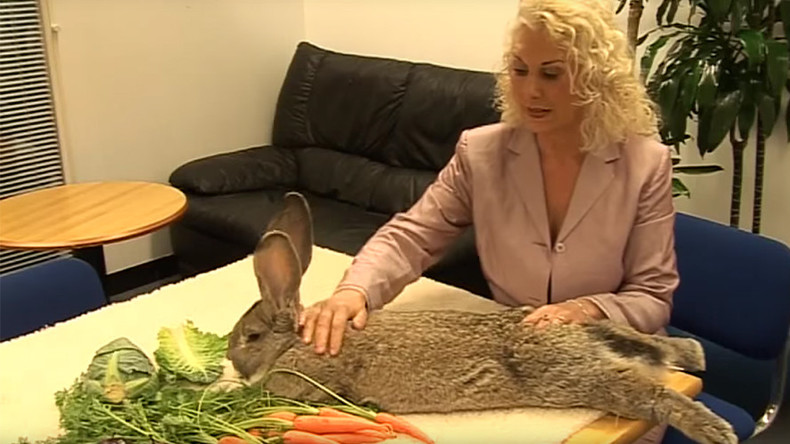 The PR department at United Airlines just can't catch a break. It's now emerged a rabbit predicted to become the biggest in the world has died aboard a transatlantic UA flight.
Simon, a 10-month-old continental giant rabbit, was being transported in the cargo section of the Boeing 767 from London Heathrow to O'Hare International Airport in Chicago when disaster struck. United Airlines say they are investigating the incident.
"Simon had a vet's check-up three hours before the flight and was fit as a fiddle," breeder Annette Edwards told the Sun. "I've sent rabbits all around the world and nothing like this has happened before."
Measuring 3ft (90cm), Edwards had expected Simon, who had been sold to a famous buyer, to take the mantle of his 4ft 4in (1.32 meters) father Darius as the world's biggest rabbit.
A spokesman for United Airlines said: "We are saddened to hear this news. The safety and wellbeing of all the animals that travel with us is of the most importance to United Airlines and our PetSafe team."
The rabbit's death is yet another public relations disaster for the airline following the much-publicized forced removal of a doctor from one of its flights earlier this month.
Dr David Dao, 69, was dragged from his seat by airport police after refusing to give up his seat when a United Airlines flight from O'Hare International Airport to Louisville, Kentucky, was found to be overbooked.
In passenger videos viewed by millions online, Dao is seen to have blood coming from his mouth as security personnel drag his limp body along the aisle to the exit.
Company CEO Oscar Munoz appeared at first to blame Dr. Dao for the incident, saying he had been "disruptive and belligerent." Following a public backlash, however, Munoz apologised to customers and staff, saying the event left him "deeply disturbed."
It was revealed on Monday that officers involved in the incident blame Dao's "flailing arms" for any injuries he sustained.
READ MORE: United Airlines viral video victim caused own injuries with 'flailing arms' – Police