United Airlines viral video victim caused own injuries with 'flailing arms' - Police
Published time: 25 Apr, 2017 15:46
Edited time: 25 Apr, 2017 16:00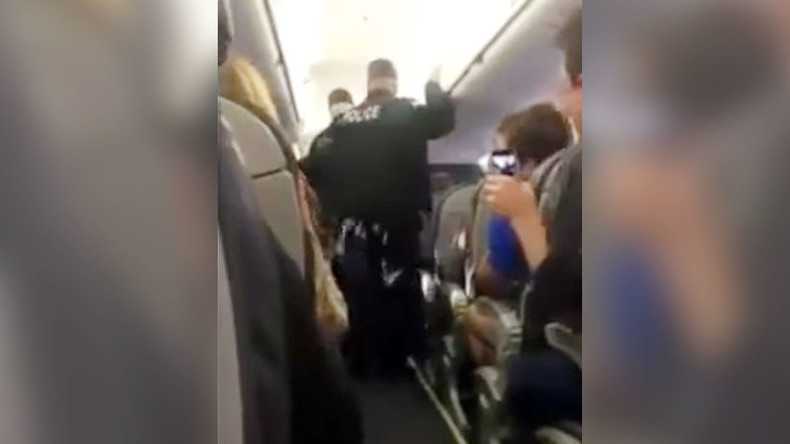 Officers involved in the forcible removal of a doctor from a United Airlines flight are blaming the man's "flailing arms" for injuries he sustained during the incident, according to official reports.
Passenger videos of the incident, viewed by millions around the world after going viral online, show aviation officers pulling Dr. David Dao, 69, from his seat after the flight from Chicago's O'Hare International Airport to Louisville, Kentucky, was found to be overbooked.
However, reports released to the Los Angeles Times Monday reveal that officers are portraying a different version of events to those depicted in the videos posted online.
One report, filed by an officer named James Long, alleges that Dr. Dao "swung his arms with a closed fist" when grabbed.
The statement read: "Ofc Long was able to grab the subject and pull him away from the window seat towards the aisle. The subject started flailing and fighting. Consequently, the subject was able to knock the right hand [of] Ofc Long off his arm and shoulder area, which caused the subject to fall, hit, and injure his mouth on the armrest on the other side of the aisle."
Another officer, Mauricio Rodriguez, said that Long used "minimal but necessary force" to remove the passenger.
In a video published online, Dr. Dao appears to have blood running from his mouth as his limp body is dragged along the floor of the plane by security personnel.
Dr. Dao had been among four passengers selected to give up their seats for four United Airlines employees on the overbooked flight. The doctor refused to depart, saying that he had to return to to Kentucky to treat his patients the following morning.
The incident is widely considered to be a public relations disaster for United Airlines, with company CEO Oscar Munoz issuing apologies to both the public and to employees, but only after first faulting Dr. Dao for being "disruptive and belligerent."
Earlier this month, Munoz issued a letter to United Airlines staff saying he is "deeply disturbed" by the incident for which the company takes "full responsibility."
Monuz wrote: "I deeply apologize to the customer forcibly removed and to all the customers aboard. No one should ever be mistreated this way."
Responding to the Chicago Aviation officers' reports, Dr Dao's lawyer Thomas Demetrio said the statements were "utter nonsense."