2 dead after cargo plane crashes at West Virginia airport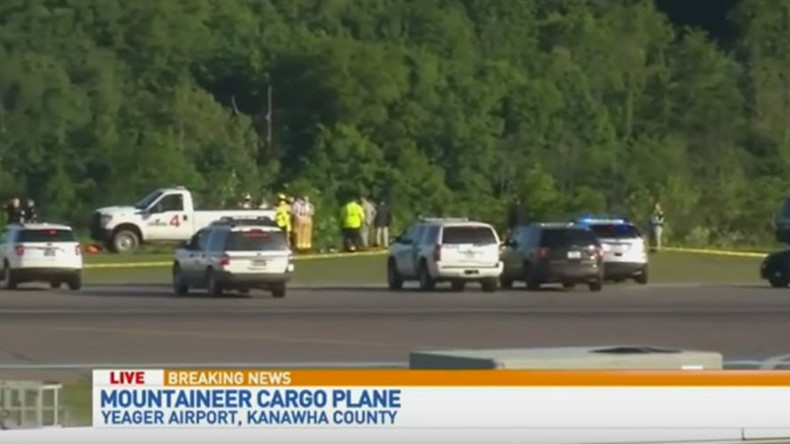 The pilot and co-pilot are reported dead after a cargo plane, contracted by UPS, crashed at a West Virginia airport, running off the runway and down a hill.
The plane went off the runway at Yeager Airport on Friday morning.
Plante says the bodies of the pilot and co-pilot have been retrieved. One man, one woman.

— Hoppy Kercheval (@HoppyKercheval) May 5, 2017
Yeager Airport spokesman Mike Plante said the cargo plane had departed from Louisville, Kentucky and was trying to land at 5:33 am when it went off the runway.
The crash occurred when the left wing of the cargo propeller struck the runway, according to federal and local officials.
State of emergency declared at Yeager Airport in West Virginia. UPS plane off the runway and over a hillside. @ABC7News

— Sam Sweeney (@SweeneyABC) May 5, 2017
"It hit the runway…hard (and) went off into a wooded area," said Plante according to West V Virginia Metro News.
A wing is detached and near the runway. The aircraft is 45 meters (150 feet) over the hill.
New outlets report that emergency crews are at the scene. Emergency workers had to use chain saws to cut their way to the site.
"It's difficult terrain to negotiate," Plante said.
"I, myself am a commercial pilot," Plante said, according to WHAS. "Whenever you have something like this happen, you're reminded of that aviation, as wonderful as it is, can be incredibly unforgiving."
The National Transportation Safety Board is going to investigate. Airport operations have been halted. The names of those killed have not been released.
The National Weather Service reported clouds were as low as 30 meters (100 feet) in the area at the time of the crash, and it was raining earlier in the morning.
.@YeagerAirport Kan Co Comm Pres said a lady called from Yawkey in Lincoln County saying she heard loud sound from a aircraft

— Jeff Jenkins (@JeffJenkinsMN) May 5, 2017
.@YeagerAirport Commissioner Ben Salango says 2 separate videos show plane coming in tilted

— Jeff Jenkins (@JeffJenkinsMN) May 5, 2017