'Very last option': McCain skeptical about preemptive strike on N.Korea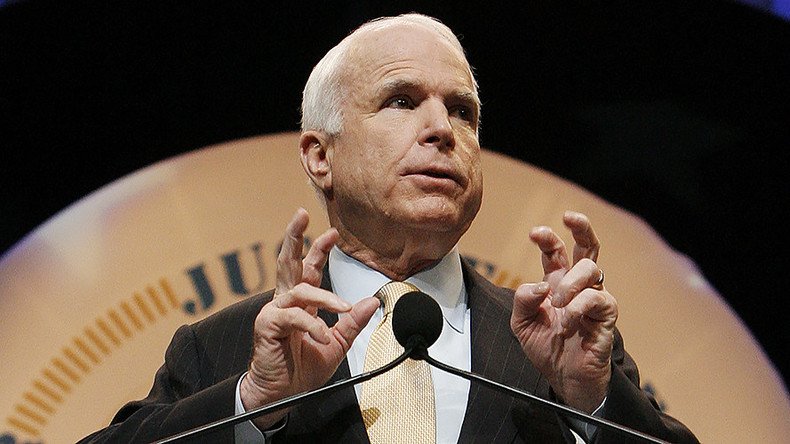 Washington's war hawk, John McCain, who applauded Trump for bombing an airbase in Syria earlier in April, said the US should rely on China's diplomacy instead of own military might in solving the North Korean crisis.
When asked on CNN's "State of the Union" if Donald Trump is considering a preemptive strike against North Korea over its ongoing nuclear tests, McCain replied: "I don't think so."
The Republican Senator, who dined with the president on Monday, said the key to solving the crisis in the Korean Peninsula is China.
"The Chinese can put the brakes on this [Pyongyang's nuclear program]. I do not believe that [North Korean leader] Kim Jong-un is going to do that by himself. I don't think he's irrational, but I don't think he's concerned about the welfare of his people to say, the least," he said.
"We got to tell the Chinese that there's a whole lot at stake, unless they bring that to a halt. Because if they (North Korea) get the weapon and they have the missile – we can't afford to have that threat to the continental United States," McCain added.
As for a preemptive strike against Pyongyang, he stressed that "we have to consider that option as the very last option."
"One of the reasons is because there's artillery on the [demilitarized zone between North and South] that can strike Seoul, a city of 26 million people, and the carnage would be horrendous," the senator explained.
READ MORE: uterte says N. Korean leader Kim 'wants to end world,' warns Trump 'not to play into his hands'
Earlier in April, McCain, who opposed Trump during his campaign for the White House, praised the president for ordering a missile strike on the Shayrat airbase in Syria.
The bombardment was carried out in response to an alleged chemical attack in Idlib on April 4, which Washington indiscriminately blamed on the Syrian government of President Bashar Assad.
"The president of the United States last night showed strength," the senator said of the strike, urging greater US assistance the so-called moderate rebels and establishment of a no fly zone in Syria.
In February, McCain called on Trump to send weapons to Ukraine which has been conducting a military operation in its rebelling south-eastern regions since 2014.
He again blamed Russia for supporting the self-defense units in Donbass, saying the "violent campaign to destabilize and dismember the sovereign nation of Ukraine will not stop unless and until he meets a strong and determined response."
Earlier on Sunday, Trump also addressed the issue of possible military action against North Korea, telling CSB he "will not be happy" if North Korea conducts another nuclear test.
When asked to clarify, the US president said: "I would not be happy. If he (Kim Jong-un) does a nuclear test, I will not be happy."
CBS host John Dickerson then asked Trump directly whether US military action was possible, the president replied: "I don't know. I mean, we'll see."
The US leader again acknowledged the important role of Beijing in dealing with North Korea's nuclear program. Trump expressed belief that Chinese president, Xi Jinping, has been "putting pressure" on North Korea to bring a halt to its nuclear tests.
You can share this story on social media: