Duterte says N. Korean leader Kim 'wants to end world,' warns Trump 'not to play into his hands'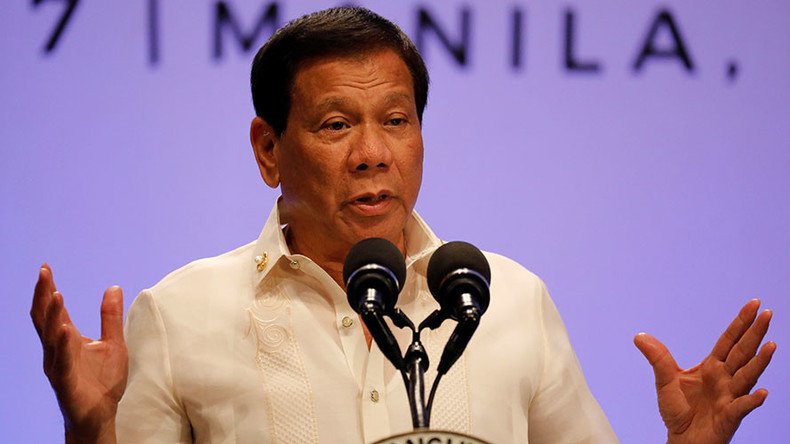 Philippines President Rodrigo Duterte has urged the White House to be "prudent and patient" in dealing with North Korea's leader, Kim Jong-un, warning that "the guy simply wants to end the world."
"There seems to be two countries playing with their toys and those toys are not really to entertain," Duterte said during a media briefing in Manila on Saturday.
"You know that they are playing with somebody who relishes letting go of missiles and everything. I would not want to go into his (Kim's) mind because I really do not know what's inside but he's putting mother earth, the planet to an edge," he added.
Duterte was speaking in his role as chairman of ASEAN, a group of ten South-East Asian countries that is meeting in the Philippines' capital over the weekend against a backdrop of yet another failed ballistic test that Pyongyang launched on Saturday morning. It is thought to be the country's sixth missile test this year.
"The guy (Kim) simply wants to end the world, that is why he is very happy. He is always smiling. But he really wants to finish everything and he wants to drag us all down," Duterte said.
Philippines president, famous for his rhetoric and controversial anti-drugs campaign, said that he would try to persuade his US counterpart, Donald Trump, to back down from the conflict.
"I would say 'Mr. President, please see to it that there is no war because my region will suffer immensely,'" proposed Duterte, who previously appeared to pivot away from his country's long-standing alliance with the US in favor of closer ties with China.
"I will just communicate to him – 'Just let him play... do not play into his hands,'" he added.
The US has deployed a fleet in the vicinity of North Korea, and Trump has said that a "major, major conflict" with Kim's regime is possible. At the same time, the US has been calling for "painful" sanctions against North Korea and asked other countries to suspend diplomatic relations with the hermit state, which is contravening UN Security Council resolutions by continuing to develop its nuclear program and missile capability.
"I am sure President Trump is cautioning his military to just maybe… not to start something which they cannot control," said Duterte.
"We have to caution everybody, including those who'd give the advice to the two players, because you have nuclear warheads, to just show restraint. One miscalculation of a missile, whether or not a nuclear warhead or an ordinary bomb, one explosion there that would hit somebody would cause a catastrophe."
Russia and China have condemned North Korea's actions, but have proposed a deal in which the US and South Korea suspend their military drills in exchange for Pyongyang halting its missile tests as a starting point for negotiations.
As of now, no talks with Kim Jong-Un's leadership are scheduled, however.
You can share this story on social media: