Russia backs China's call to stop N. Korea nuke tests in exchange for halt in US-S. Korea drills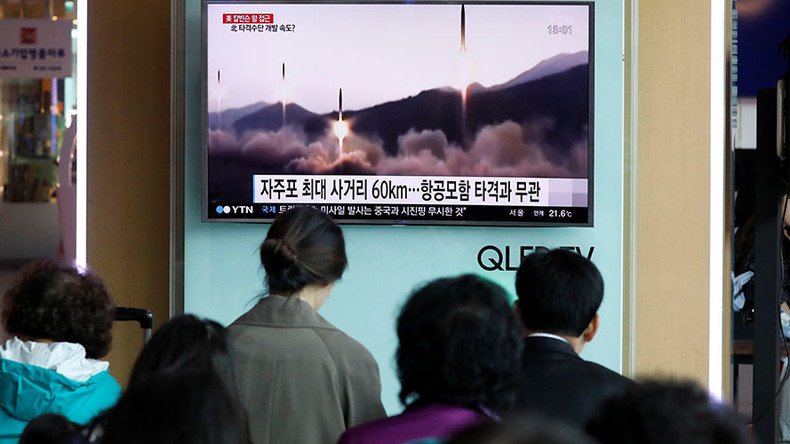 Russia has supported a Chinese initiative in the UNSC intended to stabilize the situation on the Korean peninsula. It calls on the North to refrain from missile and nuclear testing, while the US and South Korea should halt military drills in the area.
"Members of the [UN] Security Council have unanimously called upon DPRK [Democratic People's Republic of Korea] to stop missile and nuclear tests and to fulfil UNSC resolutions," the Russian Foreign Ministry said in a statement on Saturday following a United Nations Security Council (UNSC) session held in New York earlier on Friday.
The UNSC called for a political and diplomatic solution to the nuclear crisis on the Korean Peninsula, the ministry added.
"In this context, the Russian Federation supported a Chinese proposal for a 'double suspension' (Pyongyang is to stop missile and nuclear tests and the US and South Korean militaries are to halt drills near North Korea) as a starting point for political negotiations."
However, the council was not able to agree on a common solution, the ministry added.
The UNSC session was joined by Russian Deputy Foreign Minister Gennady Gatilov, who urged Washington and Seoul to reconsider their decision to station a THAAD anti-missile system on the Korean Peninsula, warning that it will serve as a "destabilizing factor" in the region.
Gatilov said the Terminal High Altitude Area Defense (THAAD) had been deployed "in line with the vicious logic of creating a global missile shield," while warning that it is also undermining the security and deterrent capacities of adjacent states, such as China, thus threatening "the existing military balance in the region."
READ MORE: 'Destabilizing factor': Russia urges US, S. Korea to reconsider THAAD anti-missiles deployment
"It is not only we who perceived this step very negatively. We are once again urging both the United States and the Republic of Korea to reconsider its expediency, and other regional states not to yield to the temptation of joining such destabilizing efforts," the deputy foreign minister said.
Ahead of the UNSC session, Chinese Foreign Minister Wang Yi told reporters that a peaceful solution to the Korean crisis is the "only right choice."
"Peaceful settlement of the nuclear issue on the Korean Peninsula through dialogue and negotiations represents the only right choice that is practical and viable," Wang said.
Meanwhile, speaking before the UN Security council, US Secretary of State Rex Tillerson threatened to suspend diplomatic relations and impose additional sanctions affecting third parties dealing with North Korea unless Pyongyang abandons its nuclear weapons program, adding that "all options for responding to future provocations must remain on the table," including military action.

"Diplomatic and financial levers of power will be backed up by a willingness to counteract North Korean aggression with military action if necessary," he said at UNSC.
On Friday, Pyongyang test fired a ballistic missile that appears to have exploded within minutes of launching without ever actually leaving North Korean airspace, according to the US Pacific Command and South Korean Joint Chiefs of Staff.
The reported missile test came amid rising tensions in the region, where the US is building up its military presence in response to an alleged North Korean "nuclear threat."
Reacting to the news, Japanese Prime Minister Shinzo Abe said the recent ballistic missile launch was a "grave threat" to Japan.
"Despite strong warnings by the international community, North Korea today went through its ballistic missile launch. It is a grave threat to our country. This is absolutely not acceptable. We strongly condemn such acts," Abe said on Saturday.
A previous missile launch on April 16, a day after a huge military parade in Pyongyang, also ended in failure, according to Washington and Seoul.
In an attempt to deter North Korea from conducting more nuclear and missile tests, the US has sent a group of American warships to the region led by an aircraft carrier. North Korea has also recently conducted large-scale, live-fire exercises on its eastern coast, just as the US and South Korea were engaged in their annual war games.
You can share this story on social media: