US threatens N. Korea with more sanctions, suspension of diplomatic talks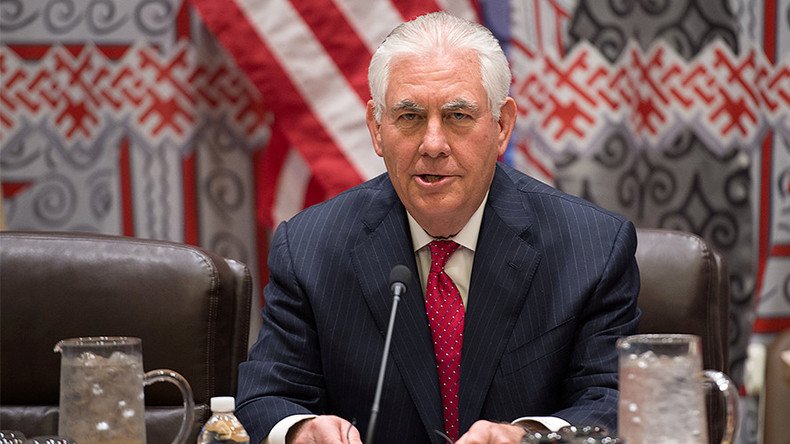 US Secretary of State Rex Tillerson, speaking before the UN Security Council, has threatened to suspend diplomatic relations and impose additional sanctions affecting third parties with North Korea unless Pyongyang abandons its nuclear weapons program.
Secretary of State Tillerson said on Friday that for years North Korea has dictated the terms of its "dangerous course of action and it's time for us to retake control of the situation."
Tillerson said that for too long the international community has been reactive and the "policy of strategic patience is over, additional patience will only lead to a nuclear North Korea."
Tillerson said since 1995 the US has provided $1.3 billion in aid to North Korea, and the US looks forward to renewing its contributions, but that Pyongyang must dismantle its nuclear weapons program if it wants to achieve international respect.
Tillerson said North Korea must take "concrete steps" towards dismantling nuclear weapons "before we can being talks."
The secretary of state said North Korea has spent billions on nuclear weapons "while its people starved."
READ MORE: US, Japan in joint show of force amid simmering row with N. Korea
"Business as usual is not an option. All options for responding to future provocation must remain on the table," said Tillerson, "and military action if necessary."
"We must prefer a negotiated solution," the US official added.
By threatening additional sanctions, building international resolve, and leaning on China to take the diplomatic lead, the US intends to pressure North Korea into abandoning its nuclear weapons – a goal that has proven elusive for two decades.
Tensions on and around the divided Korean Peninsula have been running high. In an attempt to deter North Korea from more nuclear and missile testing, the US has sent a group of American warships led by an aircraft carrier to the region. This week, North Korea conducted large-scale, live-fire exercises on its eastern coast.
While Chinese Foreign Minister Wang Yi acknowledged that stopping North Korea's nuclear weapons program is a most urgent task, he has also called for the West to "exercise restraint on North Korea," stressing that the bickering over who should take the first step must end.
The Chinese FM called for a "cooling down of temperature" and for all sides to "remain calm."
"We also demand the US refrain from conducting military exercises in region against the DPRK," Wang told the Security Council.
China said it is eager to see a resumption in negotiations. Six-nation talks with North Korea on its nuclear program, which were hosted by Beijing, stalled in 2008. The Obama administration attempted to resurrect them in 2012, but a deal to provide food aid in exchange for a nuclear deal soon collapsed.
In February, Beijing said that in order to adhere to the latest in a series of Security Council resolutions aimed at curbing the North's nuclear and missile programs, it would suspend coal imports from it for the rest of the year. Although this is an important revenue source for country, other Chinese economic activity with North Korea remains robust.
In a separate interview with National Public Radio aired on Friday, Tillerson said the US remains open to holding direct negotiations with Pyongyang.
"But North Korea has to decide they're ready to talk to us about the about the right agenda, and the right agenda is not simply stopping where they are for a few more months or a few more years and then resuming things," he said, stressing "that's been the agenda for the last 20 years."
You can share this story on social media: