'Destabilizing factor': Russia urges US, S. Korea to reconsider THAAD anti-missiles deployment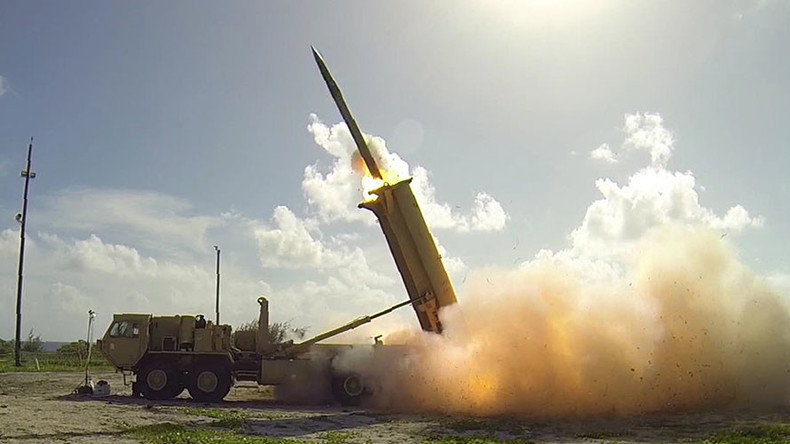 Russia has urged Washington and Seoul to reconsider their decision to station THAAD anti-missile system on the Korean Peninsula, warning that it will serve a "destabilizing factor" that could tip the existing military balance in the tense region.
Speaking in front of the UN Security Council just hours before North Korea reportedly conducted its second failed ballistic missile test this month, Russian Deputy Foreign Minister Gennady Gatilov noted that placing THAAD anti-missiles on North Korean borders will serve as "additional destabilizing factor in the region."
Gatilov said that the deployment of Terminal High Altitude Area Defense (THAAD) was made "in line with the vicious logic of creating a global missile shield." But the missile defense system deployment, he warned, is also undermining security and deterrent powers of adjacent states, such as China, thus threatening "the existing military balance in the region."
"It is not only we who perceived this step very negatively. We are once again urging both the United States and the Republic of Korea to reconsider its expediency and other regional states not to yield to the temptation of joining such destabilizing efforts," the deputy foreign minister said.
Following a series of nuclear and missile tests by North Korea, Barack Obama's administration in 2016 managed to strike a deal to place THAAD missiles in South Korea with the declared goal of keeping Pyongyang's nuclear ambitions at bay.
THAAD is designed to intercept short, medium and intermediate-range ballistic missiles during their terminal flight phase. Equipped with long-range radar, it is believed to be capable of intercepting North Korea's intermediate-range ballistic missiles.
The first elements of the system were moved onto a golf course in Seongju, North Gyeongsang Province, South Korea on Tuesday, prompting clashes between locals and police. The system will be operational in the coming days.
"It is moving very quickly, it will (have) initial operational capability very soon," Pentagon spokesman Captain Jeff Davis said Friday.
The illusion of security under the US anti-missile umbrella does not come for free, as US President Donald Trump apparently expects South Korea to pay around $1 billion for the deployment of the THAAD battery, according to his exclusive interview with Reuters.
"I informed South Korea it would be appropriate if they paid. It's a billion-dollar system," Trump told Reuters. "It's phenomenal, shoots missiles right out of the sky."
South Korean military officials however made clear that paying for THAAD was not part of the bilateral deal struck last year.
"South Korea will provide land and infrastructure and US will be responsible for purchase, operation and maintenance costs for the defense system per regulations of the Status of Forces Agreement (SOFA),"said officials at the South Korean Defense Ministry, the country's Donga newspaper reported.
In response to the deployment of THAAD, China announced Thursday that it will continue to stage live fire drills and test new weapons to protect its national security.
"The deployment of the THAAD anti-missile system in South Korea damages the regional strategic balance and stability. The Chinese side is resolutely opposed to this," Defense Ministry spokesman Yang Yujun told reporters on Thursday, when asked about THAAD.
Back at the UN, Gatilov condemned the North Korean nuclear buildup and called for talks to find a diplomatic solution to the crisis. At the same time Russian diplomat found some sense in Pyongyang's argument that it is forced to pursue missile and atomic programs because it perceives US buildup in the region and annual war games with South Korea as a threat to its national sovereignty.
North Korea "will hardly give up nuclear weapons as long as it feels direct threat to its security," Gatilov said. "This is precisely how North Koreans qualify regular large-scale maneuvers and drills by the United States and its allies in the region – and also the dispatch to that region of a US naval armada as we witnessed this month."
Gatilov's comments came just hours before Seoul and Washington accused North Korea of conducting yet another test-launch of what is presumed to be a KN-17 medium range ballistic missile. The projectile allegedly exploded "within minutes" of the launch with the debris landing in the Sea of Japan.