Joint US-S. Korea naval drills start in Sea of Japan amid tensions around Korean peninsula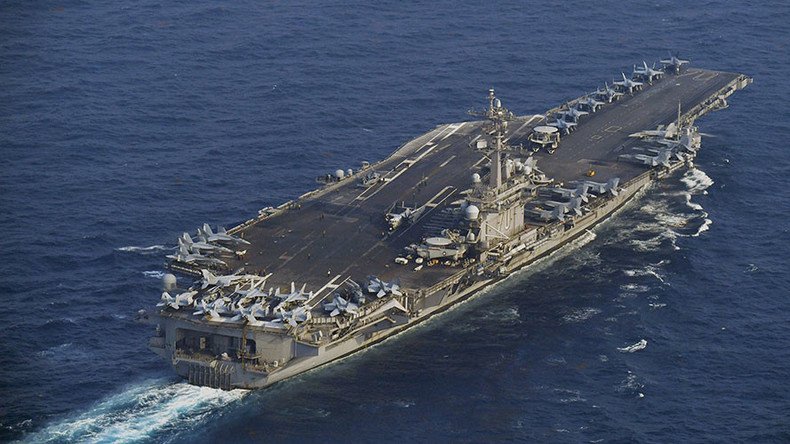 The US kicked off joint naval exercises with South Korea as the US aircraft carrier group led by the USS Carl Vinson entered the Sea of Japan through the Tsushima Strait. The war games got underway on the heels of North Korea's unsuccessful missile launch.
"South Korea and US strike forces began a drill in the East Sea from 6pm (09:00 GMT) today against the backdrop of the current security situation," South Korean Navy officials announced, referring to the Sea of Japan, as cited by Yonhap news agency.
Apart from the USS Carl Vinson, the group also includes the USS Lake Champlain, a guided-missile cruiser, as well as two destroyers, the USS Michael Murphy and the USS Wayne E. Meyer.
The drill, which is expected to last through next week, will focus on monitoring, tracing, and intercepting any intercontinental ballistic missiles that could be potentially launched by North Korea, Yonhap reports.

"The exercise is the follow-up of the naval exercise in the Yellow Sea between the two navies on Tuesday. It is aimed at deterring North Korea's provocations and strengthening the military readiness of the Korea-US alliance," the South Korean Navy said. The US aircraft carrier group also held joint drills with the Japanese navy earlier this week.
North Korea also recently conducted large-scale, live-fire exercises on its eastern coast as the US and South Korea were conducting drills in the Yellow Sea.
The US-S. Korean exercises kicked off shortly after US Pacific Command and South Korea's Joint Chiefs of Staff said that Pyongyang had apparently unsuccessfully test launched a ballistic missile. The projectile, presumed to be a KN-17 medium range ballistic missile, reportedly exploded "within minutes" of the launch, US officials told Reuters on condition of anonymity.
In the meantime, Russia's Foreign Ministry said on Saturday that Moscow supports China's initiative to de-escalate tensions around the Korean peninsula by calling on North Korea to refrain from carrying out further missile and nuclear tests in exchange for the US and South Korea suspending their military exercises in the region.

Russian Deputy Foreign Minister Gennady Gatilov also urged Washington and Seoul to reconsider their decision to station a THAAD anti-missile system on the Korean Peninsula, which he called a "destabilizing factor" in the region.
Earlier, Chinese Foreign Minister Wang Yi told reporters that a peaceful solution to the Korean crisis is the "only right choice." At the same time, US Secretary of State Rex Tillerson told the UN Security Council that the military option remains on the table for the US in dealing with North Korea's alleged nuclear ambitions.
You can share this story on social media: