'Miserable end': N. Korea threatens to sink US nuclear submarine in S. Korea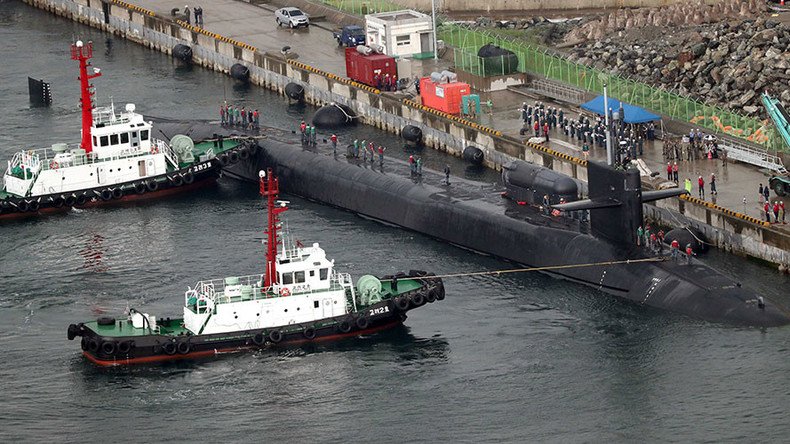 North Korea has promised to sink a US submarine currently deployed in South Korean waters if the Americans take provocative action. The statement comes shortly after Donald Trump said he won't be "happy" if Pyongyang conducts another nuclear test.
North Korea's state-controlled Uriminzokkiri news website warned on Sunday that "the USS Michigan won't even be able to rise to the surface when it will meet a miserable end and turn into an underwater ghost."
North Korea's nuclear deterrent will assure that American aircraft carriers, nuclear submarines, and other military hardware will be "shattered into pieces of molten metal" if they threaten Pyongyang, the article read.
The deployment of the USS Michigan submarine and the USS Carl Vinson aircraft carrier group near the Korean peninsula "is aimed at further intensifying threats against our republic," it added.
According to the article, recent statements coming from the Trump administration indicate that Washington is close to implementing a strategic scenario in which an actual military confrontation is a real possibility.

Earlier on Sunday, Donald Trump told CBS that he "will not be happy" if North Korea conducts another nuclear test.
When asked to clarify, the US president said: "I would not be happy. If he (North Korean supreme leader, Kim Jong-un) does a nuclear test, I will not be happy."
"And I can tell you also, I don't believe that the president of China, who is a very respected man, will be happy either," Trump said, adding that he believes Xi Jinping was also "putting pressure" on North Korea to bring a halt to its nuclear tests.
CBS host John Dickerson then directly asked Trump whether US military action was possible, the US president replied: "I don't know. I mean, we'll see."
On Saturday, the North Korean military unsuccessfully fired a mid-range ballistic missile, which reportedly crashed shortly after launch, making it the country's third failure in April.
Pyongyang's ballistic missile tests have been banned by the UN, as they are considered to be part a North Korean program aimed at building a nuclear-capable missile.
READ MORE: Duterte says N. Korean leader Kim 'wants to end world,' warns Trump 'not to play into his hands'

Trump told CBS that the failed test wasn't significant enough to warrant action against North Korea.
"This was a small missile. This was not a big missile. This was not a nuclear test, which he was expected to do three days ago. We'll see what happens," the president said.

Joint US-South Korean naval wargames, Foal Eagle, involving 20,000 Korean and nearly 10,000 American troops kicked off in the region on Sunday.

Washington said that the USS Carl Vinson aircraft carrier group and USS Michigan submarine, which docked in the port of Busan earlier this week, will remain in the area due to the spike in tensions between Washington and Pyongyang.
Also on Sunday, Seoul said that the US had reaffirmed that it would foot the bill for deploying the THAAD anti-missile system in South Korea to counter the perceived threat from the North.
South Korea was stunned in the middle of last week when Trump told Reuters that South Korea would have to fork out $1 billion for the hardware, contrary to prior agreements.
In a phone call requested by the US, Trump's national security adviser, H. R. McMaster, "explained that the recent statements by President Trump were made in a general context, in line with the US public expectations on defense cost burden-sharing with allies," the South Korean president's office said.
You can share this story on social media: