US Marines return to Afghanistan's Helmand province for first time since 2014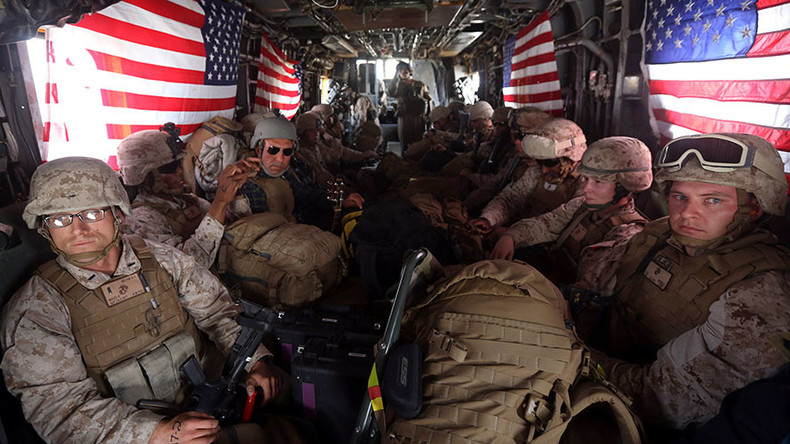 US Marines have returned to Afghanistan's southernmost Helmand province, which is mostly controlled by the Taliban. The Marines withdrew from the area in October of 2014, and the security situation there has deteriorating over the years.
The province saw some of the worst fighting in the earlier years of the US-led occupation. NATO says its forces have since relinquished combat missions to the Afghan National Army and remain in the country only for training and assistance purposes.
The 300-strong Marine force arrived in Helmand on Saturday, AFP reported. The commander of US and NATO forces in Afghanistan, General John Nicholson, attended a handover ceremony, during which the Marines took over from a similarly sized US Army unit, which is now rotating home.
The deployment, which was first announced in January, is meant to bolster the Afghan Army's 215th Corps at Camp Shorab, and in the provincial capital Lashkar Gah. The US troops come from the 6th Marine Regiment stationed at Camp Lejeune, North Carolina, military.com reported.
Helmand is among the parts of Afghanistan most troubled by insurgency. The Taliban control or are contesting for 10 of the province's 14 districts. The latest to fall to the militant movement was Sangin, where some 50 Marines and 100 British troops were killed between 2001 and 2011. The Marines held a formal withdrawal ceremony in the district in October of 2014, after the supposedly improving security situation allowed foreign troops to hand combat duty over to the Afghans.
READ MORE: Taliban vows to 'harass, capture, kill' enemies in fresh spring offensive in Afghanistan
The arrival of the Marines comes a day after the Taliban announced this year's spring offensive, pledging to keep on pressure on Afghan's security forces. Last week, the militants conducted one of its deadliest attacks of this year, killing over 100 troops at a military base in the northern Balkh province.
You can share this story on social media: