Taliban vows to 'harass, capture, kill' enemies in fresh spring offensive in Afghanistan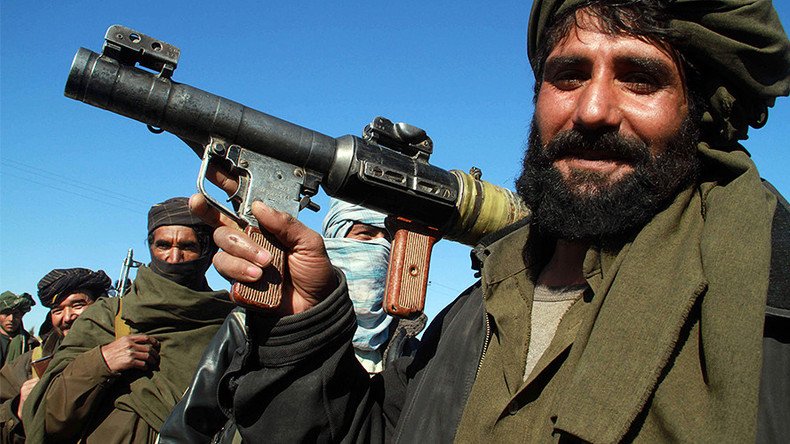 The Taliban has announced the launch of a "spring offensive" in Afghanistan, warning that its enemies, including foreign troops, will be "targeted, harassed, killed, or captured." The Interior Ministry responded by issuing its own warnings to militants.
Operation Mansouri, named after the Taliban's former leader who was killed in a US drone strike in 2016, will target foreign forces with "conventional attacks, guerrilla warfare, complex martyrdom attacks, [and] insider attacks," according to a statement quoted by AFP.
"The enemy will be targeted, harassed, killed or captured until they abandon their last posts," the statement continues.
While the spring offensive takes place every year, the statement said that this year will be different, with the group also vowing a political approach.
"Hence, keeping the evolving situation in mind, this year's Mansouri Operations will differ from previous ones in nature and will be conducted with a twin-tracked political and military approach," Taliban spokesman Zabihullah Mujahid said, as quoted by AP.
Mujahid said the Taliban will begin building institutions in areas under its control, establishing what he called "social justice and development" mechanisms.
The Taliban's Friday statement also boasted the group's control of over more than half of the country, referencing a February report issued by Washington's special inspector general for Afghan reconstruction. That paper said the Afghan government had control or influence over just 52 percent of Afghanistan's 407 districts last year, down from 63.4 percent previously.
Responding to the Taliban announcement, Afghanistan's Interior Ministry seemed relatively unfazed, saying the threats are "not something new."
"We will target, kill, defeat and suppress the Taliban...all across the country," acting ministry spokesman Najib Danish told AFP.
The ministry's confidence comes despite the fact that Afghanistan's government has been struggling to beat back insurgents since US-led NATO troops ended their combat mission in December 2014.
Afghan forces – which have seen a large number of killings, desertions, and struggles over leadership and morale – suffered a surge in casualties last year, with 6,800 soldiers and police killed, according to a US watchdog cited by AFP.
An attack on a military base last week killed at least 135 soldiers, according to the official toll. Other sources put the number of fatalities much higher.
Afghanistan's defense minister and army chief of staff resigned following the attack, which was described by the Taliban as a "prelude" to the spring offensive.
The Taliban also claimed a major victory last month, managing to retake the deadliest district of the Helmand Province in terms of UK military losses, according to local officials.
The Friday announcement comes just days after US Defense Secretary James Mattis visited Kabul, warning that 2017 would be "another tough year" for Afghan security forces, reiterating that the group has the chance to disarm and join the political process.
The Afghan conflict is the longest in American history, with US-led NATO troops at war there since 2001, following the 9/11 attacks.
Around 8,400 US troops are currently in the country, along with another 5,000 from NATO allies. The troops are largely conducting a training, advice, and assist mission aimed at supporting Afghan forces.
You can share this story on social media: