'Unprofessional and lying': Lavrov slams US claims of Russia arming Taliban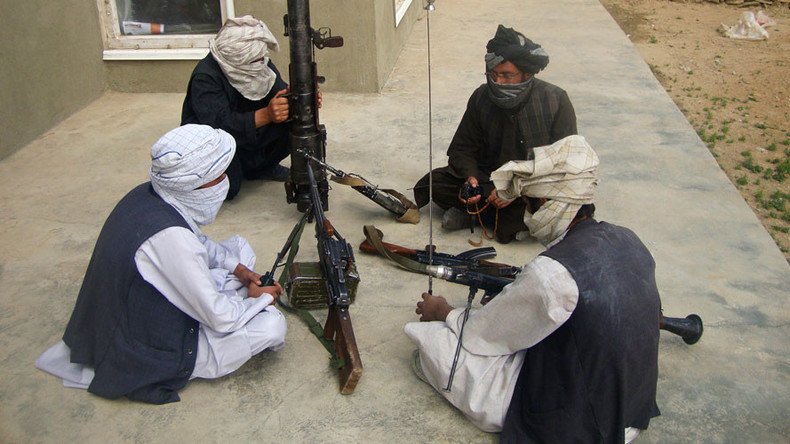 Washington's recent accusations that Moscow supplies the Taliban with weapons are unprofessional and baseless, Russian Foreign Minister Sergey Lavrov said, adding that the US has not provided any evidence.
Lavrov was speaking at a press conference following talks with OSCE Secretary General Lamberto Zannier in Moscow.
The Russian foreign minister said that Washington's claims are a possible smokescreen aimed at diverting attention from changing course on Syria and returning to 'regime-change' rhetoric.
"As for the statements on [Russia] allegedly supplying the Taliban with weapons, which are heard from the military in Washington and from those who head the US military group in the region, including Afghanistan – those [statements] are unprofessional and groundless," Lavrov said. The minister added that those in Washington in charge of gathering intelligence "know perfectly well that those statements are untrue," and "not a single fact" was provided.
"We feel the attempts by some of our colleagues to scrap the UN Security Council resolution on a political solution through inter-Syrian dialogue and go to the old rhetoric of regime change," Lavrov stated, adding that Russia will oppose it.
Recalling the absence of US representatives at the recent Afghan peace conference in Moscow, Lavrov said that this might have been a part of America's strategy to "put the blame for Washington's failures in Afghanistan" on Russia.
The US' longstanding operation in Afghanistan has only multiplied terrorist and drug threats from the country, Lavrov said. He also noted that Washington itself had contacts with the Taliban after the latter opened an office in the Qatari capital, Doha.
Moscow believes it is necessary that the Taliban engages in dialogue with Kabul to achieve peace in Afghanistan, Lavrov said, adding that the group must "stop violence, cut ties with terrorism, respect the constitution."
During US Defense Secretary James Mattis' visit to Afghanistan on Monday, the head of the US and international forces in Afghanistan, General John Nicholson, accused Russia of sending weapons to Taliban insurgents. The allegations are nothing new, and Moscow has previously denied the claims.
The US military campaign in Afghanistan ended in 2014, though 9,800 US soldiers remain there to assist Afghan forces, and the US seeks to boost its military forces on the ground, after General John Nicholson stated that the US "cannot afford to walk away from Afghanistan," asking Congress to send "a few thousand more" troops.
You can share this story on social media: