Ignore those murmurs: German newspaper says Ivanka Trump not booed at event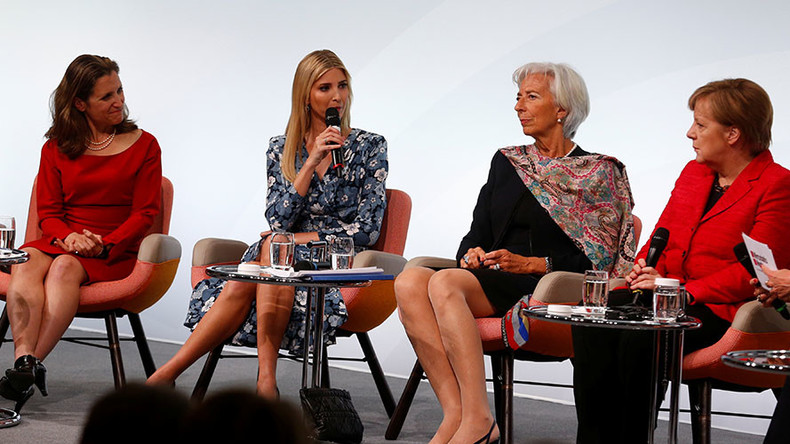 German tabloid Bild has claimed that, despite audible evidence, Ivanka Trump was not booed for saying her father, President Donald Trump, is an advocate of female empowerment at a panel discussion in Berlin with some of the world's most powerful women.
This week, Ivanka Trump participated in a panel discussion on women's empowerment and entrepreneurship at the W20, a female-centric summit within the Group of 20 (G20) countries. The panel included the likes of German Chancellor Angela Merkel and Christine Lagarde, managing director of the International Monetary Fund.
During the discussion, Trump opined on her father's legacy as an advocate for paid leave policies.
"That is something I'm very proud of my father's advocacy, long before he came into the presidency, he championed this in the primaries. He's been a tremendous champion of supporting families and enabling them to thrive," Trump said, prompting some restive murmuring from the crowd.
The audible reaction from the crowd in response to Trump has been labeled "heckling" or "booing" by news outlets. Not so fast, says German newspaper Bild.
"US media … are focusing on something else: they claim that Ivanka was booed and sneered at," Bild reported.
"The murmuring that could be heard as Ivanka defended her father against criticism was interpreted as massive booing of the President's daughter."
Bild added: "There was no booing or heckling at all, however."
The crowd's restlessness was immediately acknowledged by Miriam Meckel, editor of the German magazine Wirtschaftswoche, who then asked the first daughter to address the audience's vocal disapproval.
"You hear the reaction from the audience," Meckel said. "I need to address one more point ‒ some attitudes toward women your father has displayed might leave one questioning whether he's such an empowerer for women."
Trump replied: "I've certainly heard the criticism from the media and that's been perpetuated, but I know from personal experience, and I think the thousands of women who have worked with and for my father for decades when he was in the private sector are a testament to his belief and solid conviction in the potential of women and their ability to do the job as well as any man."
Donald Trump many times created controversy with such claims as" "Women, you have to treat 'em like shit." During his 2016 presidential campaign, audio surfaced of Trump making highly derogatory remarks about women. At least a dozen women have accused him of sexual assault.
Journalist Beate Wedekind wrote Thursday that she was one of those booing Ivanka Trump at the women's conference.
"At some points, Ivanka overdid it so much that we, the audience, reacted with booing," Wedekind said. "And yes, my participation in booing her came with deep conviction. I might even have been the loudest. It wasn't as much about what she said, but that she had the audacity to use this important conference to campaign for her father."