Amid govt shutdown fear, Trump withdraws border wall funding demand – reports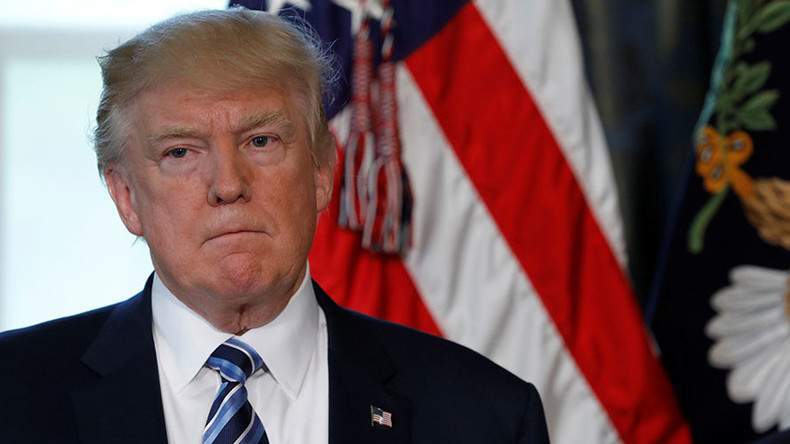 As a possible government shutdown approaches, President Donald Trump has walked back previous demands that funding for a border wall be included in the upcoming spending bill, saying he can postpone that until September.
In a private meeting Monday, Trump informed around 20 reporters that he would be willing to compromise in order to avoid a government shutdown, according to the Associated Press.
Senate Minority Leader Chuck Schumer (D-New York) called the president's shift "good for the country."
"Now the bipartisan and bicameral negotiators can continue working on the outstanding issues," Schumer added, according to NBC News.
If the spending bill is passed, it would keep the government running until September 30, the closing date for the 2017 federal fiscal year. However, if enough Democrats do not agree to the deal by midnight Saturday, parts of the government will shut down, unless some other compromise is worked out.
Federal lawmakers returned Monday from a two-week recess, as a pair of Trump's tweets urged Democrats to approve funding for a border wall, one of his major campaign promises, albeit to be paid for by Mexico.
"The wall is a very important tool in stopping drugs from pouring into our country and poisoning our youth (and many others)! If...the wall is not built, which it will be, the drug situation will NEVER be fixed the way it should be," Trump tweeted Monday.
Congress has less than a week to pass some form of spending bill to keep the government running. The bill would require 60 votes to clear the Senate, where Republicans only hold 52 seats, meaning at least some Democrats would need to join them presumably to avoid a shutdown.
Democrats have long been opposed to Trump's proposed wall along the border with Mexico, which Senate Minority Leader Schumer called "a pointless waste of taxpayer money for several reasons."
Trump's tweets Monday followed a pair of tweets posted Sunday, in which he ridiculed Democrats for their opposition to the border wall and insisted that Mexico would "eventually" pay for the border wall "in some form."
During his campaign, Trump repeatedly promised the funding for the wall would come from Mexico. However, Mexican officials have repeatedly underlined that they will not pay for the wall.
The Department of Homeland Security estimates the border wall will cost around $21.6 billion and take three and a half years to build, according to internal reports obtained by Reuters.
At Monday's press briefing, White House Press Secretary Sean Spicer told reporters that the Trump administration is "confident that we're not going to have a shutdown."
Spicer declined to say whether Trump would sign a bill that did not include funding for two of his major priorities.
"The president has made very clear that he's got two priorities in this continuing resolution: No. 1, the increase in funding for the military and No. 2, for our homeland security and the wall," Spicer told reporters.
Trump's budget calls for one of the largest military increases in history, with $30 billion for the Department of Defense and $3 billion for the Department of Homeland Security for fiscal year 2017.
On Sunday, Mick Mulvaney the Director of the Office of Management and Budget told Fox News that the government would not shut down and an agreement could happen "as early as today."
Additionally, Mulvaney said that the Trump administration would not only be able to avert a government shutdown – with a spending bill that includes funding for the border wall and the military spending increase – but that they could also pass an Obamacare replacement bill within the next five days.
"We don't think there's any structural reason that the House and the Senate cannot do both things in a week, "Mulvaney said. "If we can have an agreement by the end of the day on keeping the government open, that can be done this week. And if the House at least can get its folks, its ducks in a row to vote this week on health care, they can do that as well."
Mulvaney said the Trump administration is willing to offer Democrats $1 in funding for Obamacare subsidies to insurers in exchange for $1 in funding to build the wall.
"We are offering to give Democrats some of their priorities as well," Mulvaney said. "We don't like those very much, but we have offered to open the discussions to give the Democrats something they want in order to get something we want."
The Democrats rejected the proposal, with Schumer calling it a "gambit to hold hostage health care for millions of Americans" according to a statement from his spokesman, Matt House.
At the same time, Trump has been repeatedly tweeting about the demise of Obamacare, saying that it was in "a death spiral" only hours after asking Democrats to fund his border wall.
The last government shutdown was in 2013, when Republicans forced a 17-day shutdown in a failed attempt to repeal Obamacare.
You can share this story on social media: