Trump calls for 20% import tax from Mexico to pay for border wall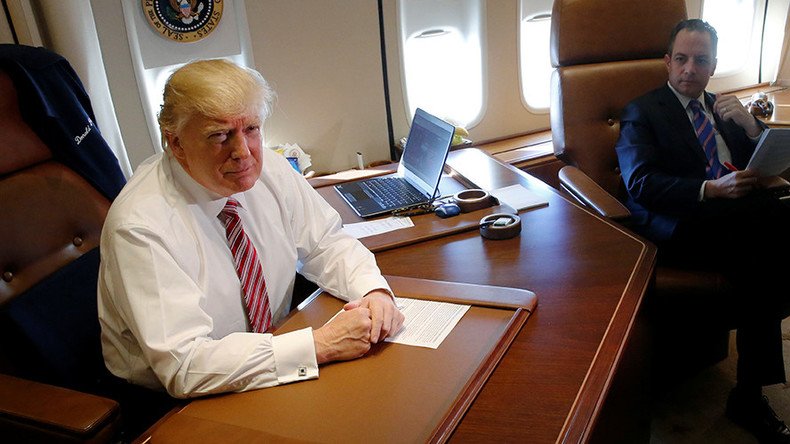 After signing an executive order to build a wall on the southern border, President Trump said that Mexico will pay for the costs of construction "one way or another." The White House has hinted it would be with an import tax.
In the past, Trump has said that the initial funds for the wall would come from US taxpayers, and later be reimbursed by Mexico; however, Mexican President Enrique Pena Nieto says that Mexico will not pay for any wall.
"I regret and reject the decision of the United States to continue building a wall that, that for years, far from uniting us, divides us," Peña Nieto said in a recorded message on Twitter.
"Mexico does not believe in walls. I've said time again; Mexico will not pay for any wall," Peña Nieto said.
In response, Trump tweeted on Thursday that if Mexico is unwilling to pay for the cost of the wall, that he will cancel the upcoming meeting planned for January 31. The two leaders were supposed to meet on Thursday to talk about immigration, trade and drug-war cooperation.
"The U.S. has a 60 billion dollar trade deficit with Mexico. It has been a one-sided deal from the beginning of NAFTA with massive numbers of jobs and companies lost," the president tweeted. "If Mexico is unwilling to pay for the badly needed wall, then it would be better to cancel the upcoming meeting."
Mexico will pay for the wall "one way or another," White House Press Secretary Sean Spicer said during the Thursday briefing. He announced plans to impose a 20 percent border tax on Mexican imports into the US.
Ildefonso Guajardo, Mexico's economy minister, said Thursday that US consumers would be left paying for the effects of the tax in the form of higher prices.
The 20 percent tax on annual Mexican imports would raise $10 billion a year to pay for the border wall, which is estimated to cost between $8 billion and $20 billion, Spicer said.
"By doing it that we can do $10 billion a year and easily pay for the wall just through that mechanism alone. That's really going to provide the funding," Spicer told reporters aboard Air Force One, according to CNN.
In his first interview in the White House, Trump reaffirmed that Mexico will reimburse the payment for the wall, saying "there will be a payment, it will be in a form. Perhaps a complicated form... We want to have a very stable, very solid Mexico," Trump told ABC's David Muir. Trump added that the construction on the wall would start "very soon, as soon as we can physically do it."
Since 1994, the US has had a free trade agreement with Mexico under the North American Free Trade Agreement (NAFTA), which has eliminated of most tariffs on products traded between the countries involved.
NAFTA has allowed Mexico to become the third largest supplier of imports to the US, with over $295 billion coming into the US each year, according to the the latest data from the Office of US Trade Representative. That trade between countries also supports an estimated 1.1 million jobs.
During his campaign, Trump repeatedly called for the end to these trade agreements. After signing an executive order that withdraws the US from the Trans-Pacific Partnership (TPP) trade deal, the White House website says that, if other nations do not renegotiate current trade deals, the Trump administration will "give notice of the United States' intent to withdraw from NAFTA."
Trump has proposed a 45 percent tariff on Chinese imports and 35 percent on non-petroleum Mexican imports, which, according to a recent report from Moody's Analytics, would increase import prices by approximately 15 percent, and lift consumer prices in the US by almost 3 percent.
"The U.S. economy will weaken significantly if Mr. Trump's economic policies are fully implemented as he has proposed. The economy will suffer a recession that begins in early 2018 and extends into 2020," the report says.
Senator Lindsey Graham (R-South Carolina) objected to the tariff, tweeting: "Border security yes, tariffs no. Mexico is 3rd largest trading partner. Any tariff we can levy they can levy. Huge barrier to econ growth."
In June 2016, Republicans drafted a tax plan that would impose a tariff on all imported goods and services, while exempting exports from a tax. The idea behind the plan was to put domestically manufactured goods and imported goods on an equal footing.
Today, most other countries see a significant portion of their tax revenues come from value-added taxes (VATs), a tax that has a similar impact as a tariff. However, in the US, exports "implicitly bear the cost of the U.S. income tax while imports into the United States do not bear any U.S. income tax cost. This amounts to a self-imposed unilateral penalty on U.S. exports and a self-imposed unilateral subsidy for U.S. imports," the Republican tax plan reads.
"Keep in mind, there's a hundred and sixty other countries that do just this, We're one of the only major countries ‒ In fact, probably the only major country that doesn't treat imports this way. In fact, we currently tax exports, not imports," Spicer told the Washington Post on Thursday.
"So, this gets us in line with frankly the policies that the other countries around the world treat our products," Spicer said.
The White House later said that the import tax is only one option the Trump administration is considering.
You can share this story on social media: