'El Chapo' complains about reruns, tap water, poor view at New York prison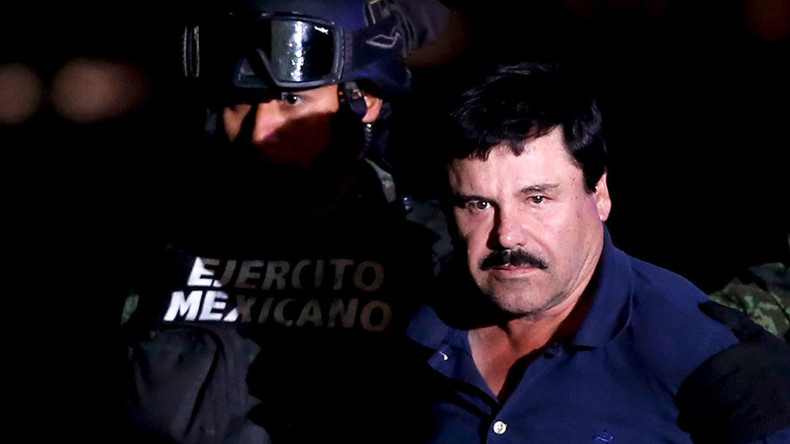 Notorious Mexican drug lord Joaquín 'El Chapo' Guzmán has been protesting against the conditions of his incarceration that are so stressful defense lawyers claim he is hearing voices.
Since his extradition to the US from his native Mexico, 'El Chapo' has been housed in 10 South, the most secure wing of New York's Metropolitan Correctional Center, dubbed the 'Guantanamo in New York.'
Prisoners in 10 South aren't permitted to go outside, and spend 23 hours a day locked in a cell, constantly monitored by security cameras.
In the hour they are allowed out, prisoners spend time in a small recreation room which has a treadmill, exercise bike, TV and a window from which captives can gaze upon downtown Lower Manhattan - not that 'El Chapo' is too impressed by the view.
Citing court filings, The New York Times reports that since he arrived, the Sinaloa Cartel kingpin has been complaining, through his lawyers, about his conditions. Guzmán is reportedly unhappy that he has been denied all contact with his family and the media.
His lawyers claim he's the most guarded inmate in the country, unsurprising given the 59-year-old's history of escaping from maximum security prisons, and that the terms of his imprisonment have hindered his ability to adequately prepare for his trial.
READ MORE: Drug lord 'El Chapo' escaped from two virtually identical Mexican prisons
The defense team has asked Judge Brian M. Cogan for more leniency in the conditions of their client's incarceration and have also sought permission for an Amnesty International researcher to be allowed inspect 10 South.
Among Guzmán's 11 gripes are: the quality of tap water, which he claimed disturbed his throat; the TV in the rec room not being visible from the exercise bike; the fact that he is not permitted to change the channel and is now sick of watching a "nature program about a rhinoceros" that has been "replayed numerous times."
Defense lawyers also said that Guzmán briefly thought he was hearing voices, though prosecutors say he was simply picking up sounds from a nearby radio.
Federal prosecutors have argued that the conditions of Guzmán's incarceration are necessary as he has escaped from prison a number of times and still holds "unparalleled connections" to the Sinaloa cartel and has a "proven history" of murdering his enemies while behind bars.
The so-called 'Osama bin Laden of Drug Trafficking' is charged with running a $14 billion drug smuggling empire out of Mexico, while overseeing numerous murders and kidnappings, from 1989 to 2014. He has pleaded not guilty.