Peaceful & nuke-free Korean peninsula possible with China's pressure – Pence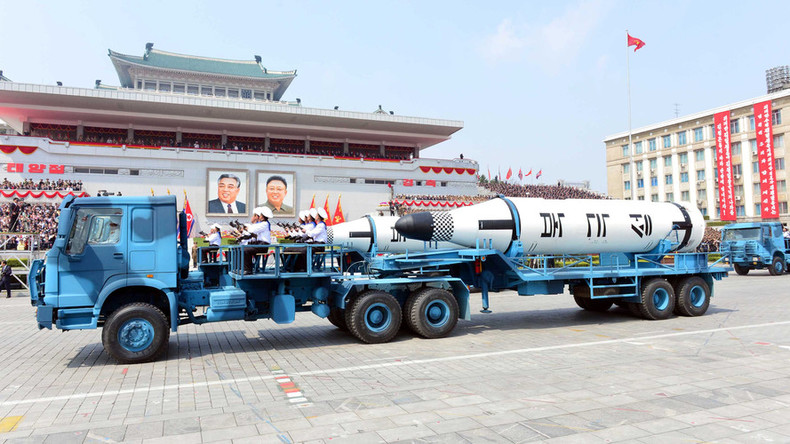 It is possible for the Korean peninsula to be nuclear-free and for current tensions to be eased peacefully if China exerts pressure on the North, along with US allies in the region, US Vice President Mike Pence said.
"We truly believe that, as our allies in the region and China bring that pressure to bear, there is a chance that we can achieve a historic objective of a nuclear-free Korean peninsula by peaceful means," Pence said at a joint news conference with Australian Prime Minister Malcolm Turnbull in Sydney, as cited by Reuters.
Pence added that Washington has been "encouraged by the steps that China has taken so far" concerning the Korean crisis.
READ MORE: 'Ready to fight & win': US marines deployed to Australia amid N. Korean 'nuclear threat'
The statement comes as tensions are growing on the Korean peninsula, with both sides trading barbs that would not indicate a 'peaceful' or 'nuclear-free' future. On Thursday, Pyongyang warned Washington that it could launch a "super-mighty pre-emptive strike," which would "reduce the US to ashes."
As the PM & I reaffirmed, under @POTUS' leadership, the U.S & Australia will stand firm & stand strong in the face of North Korea #VPinAUS

— Vice President Pence (@VP) April 22, 2017
In apparent response, South Korea's acting president, Hwang Kyo-ahn, called on his country's military and security ministries to remain vigilant.
South Korea's Defense Ministry also confirmed on Thursday that the US and South Korean Air Forces will be conducting an annual training exercise – codenamed Max Thunder – until April 28.
READ MORE: Trump's 'armada' turns toward North Korea as White House defends misleading remarks
Earlier this week, Pence himself promised an "overwhelming and effective" response to any attacks from Pyongyang, stressing that the "sword stands ready."
To top it all off, on Wednesday, North Korea "struck" the United States with a devastating missile launch in a video mock-up aired during a musical show commemorating former leader Kim II Sung's 105th birthday.
Earlier in April, China's Foreign Minister, Wang Yi, warned that an armed conflict involving North Korea could break out "at any moment," urging Washington and Pyongyang to tone down their hawkish rhetoric and realize the price that both sides would pay if a new Korean War broke out.
Beijing , Pyongyang's close ally and main trading partner, does not approve of Pyongyang's nuclear program, but advocates finding a political solution to the situation.
READ MORE: VP Pence vows to honor refugee deal with Australia, which Trump had called 'dumb'