VP Pence vows to honor refugee deal with Australia, which Trump had called 'dumb'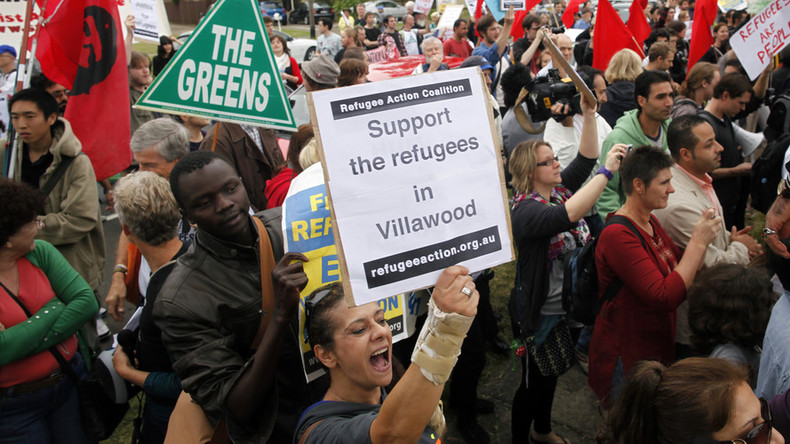 US President Donald Trump may have branded a deal the Obama administration struck with Australia to resettle up to 1,250 refugees in America as "dumb," but his vice president has now assured the Aussies that Washington will honor it anyway.
Mike Pence offered the assurances to Australian Prime Minister Malcolm Turnbull on Saturday during a joint media conference in Sydney.
"We will honor this agreement out of respect to this enormously important alliance," Pence said at Turnbull's harbor side official residence.
The deal was agreed to by former US President Barack Obama shortly before he left the White House. The US agreed to accept up to 1,250 asylum seekers currently being held by Australia in processing camps on the islands of Papua New Guinea and Nauru. In return, Australia would resettle refugees from El Salvador, Guatemala and Honduras.
The deal was at the center of an infamous acrimonious phone conversation between US President Donald Trump and Turnbull in February. Trump had talked to several world leaders on that day and later took to Twitter to blast his conversation with the Australian, which he called "the worst call by far."
"Do you believe it? The Obama Administration agreed to take thousands of illegal immigrants from Australia. Why? I will study this dumb deal!" he tweeted.
During the meeting in Australia, Pence said the deal will go through as planned, despite Trump's reservations.
"President Trump has made it clear that we'll honor the agreement. That doesn't mean we admire the agreement," he said.
The VP's visit to Sydney is part of a 10-day, four-country trip to the Pacific Rim that is widely viewed as an effort to smooth over US relations with Australia.
The Australian government, which has a strict policy regarding asylum seekers, is under intense pressure from human rights groups and the nations hosting its refugee camps to shut them down. Reports from rights advocates say the conditions in these centers are inhumane and the people kept in them are subjected to regular abuse.