N. Korea threatens to 'reduce US to ashes' with 'super-mighty pre-emptive strike'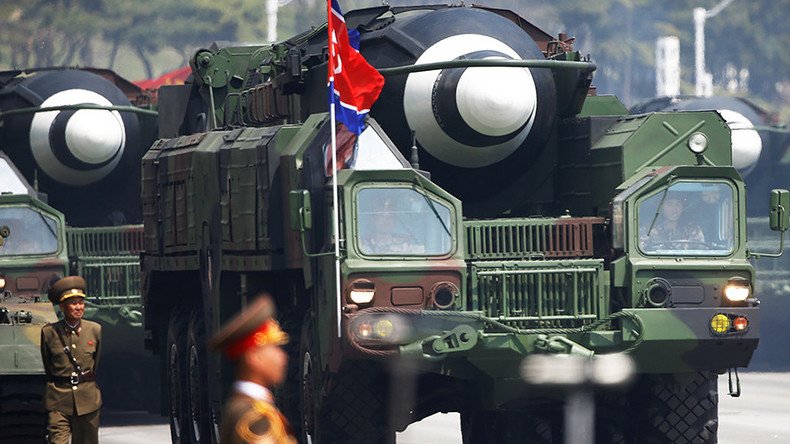 North Korean state media has warned Washington of a "super-mighty pre-emptive strike" which would "reduce the US to ashes." It comes after US Secretary of State Rex Tillerson said Washington is looking to pressure Pyongyang over its nuclear program.
"In the case of our super-mighty preemptive strike being launched, it will completely and immediately wipe out not only US imperialists' invasion forces in South Korea and its surrounding areas, but the US mainland and reduce them to ashes," Rodong Sinmun, the official newspaper of the North's ruling Workers' Party, wrote on Thursday, as quoted by Reuters.
It comes just one day after Tillerson, as part of President Donald Trump's hardline stance against North Korea, said the US is exploring ways to put pressure on Pyongyang.
"We're reviewing all the status of North Korea, both in terms of state sponsorship of terrorism as well as the other ways in which we can bring pressure on the regime in Pyongyang to re-engage with us, but re-engage with us on a different footing than past talks have been held," he told reporters on Wednesday.
Tillerson wasn't the only Trump-appointed US official making remarks about North Korea on Wednesday.
Speaking from the 'USS Ronald Reagan' in Japan, Vice President Mike Pence vowed an "overwhelming and effective" response to any potential attacks from Pyongyang, stressing that the "sword stands ready."
Defense Secretary Jim Mattis simultaneously denounced Pyongyang's latest missile launch attempt during his Middle East tour, telling reporters in Saudi Arabia that "the leader of North Korea again recklessly tried to provoke something by launching a missile."
Meanwhile, South Korea's acting president, Hwang Kyo-ahn, called for his country's military and security ministries to remain vigilant on Thursday.
READ MORE: US actions can see nuclear war 'break out at any point' – N. Korean UN envoy
South Korea's Defense Ministry also confirmed on Thursday that the US and South Korean Air Forces are conducting an annual training exercise – codenamed Max Thunder – until April 28.
"We are conducting a practical and more intensive exercise than ever," South Korean pilot Colonel Lee Bum-chul told reporters. "Through this exercise, I am sure we can deter war and remove our enemy's intention to provoke us."
The Thursday threat by North Korean state media come after Pyongyang performed a music show to mark the birth of former leader Kim Il-sung, which included a video that appeared to show North Korea striking the US with a devastating missile launch.
North Korea tried and failed to launch a ballistic missile last Saturday, with the weapon reportedly blowing up almost immediately after launch.
You can share this story on social media: