'Sword stands ready': Pence vows 'overwhelming & effective' response to N. Korean attacks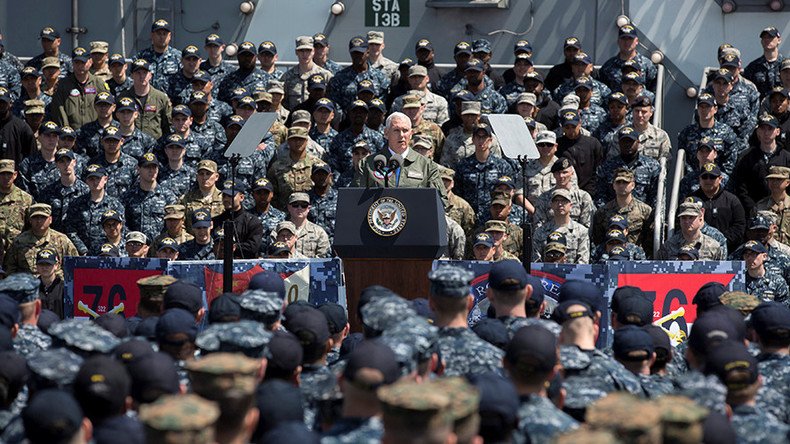 US Vice President Mike Pence has issued a fresh warning to North Korea, saying that Washington will counter any potential attack with an "overwhelming and effective" response.
Speaking from the deck of the aircraft carrier 'USS Ronald Reagan', docked in Yokosuka, Japan, Pence told 2,500 American sailors that North Korea is "the most dangerous and urgent threat to peace and security in the Asia-Pacific."
"The United States of America will always seek peace, but under President Trump, the shield stands guard and the sword stands ready," he said, as quoted by AP.
He went on to vow that the US would "defeat any attack and meet any use of conventional or nuclear weapons with an overwhelming and effective American response."
Pence also said that North Korea's latest failed missile launch was a reckless act of provocation, and assured Asian allies that the Washington is ready to work to achieve a peaceful denuclearization of the Korean Peninsula.
The VP noted the Trump administration will "work diligently" with allies, including Japan and China, in order to apply economic and diplomatic pressure on Pyongyang. However, he told the sailors that "readiness is the key."
He also said the US will honor its alliance with Pacific Rim nations to protect freedom of navigation in the disputed South China Sea – most of which Beijing lays claim to, despite conflicting claims from other Asian nations.
The comments were made during Pence's 10-day trip to the Asia-Pacific region, which includes South Korea, Japan, Indonesia and Australia.
Defense Secretary Jim Mattis simultaneously denounced North Korea's latest missile launch attempt during his Middle East tour, telling reporters in Saudi Arabia that "the leader of North Korea again recklessly tried to provoke something by launching a missile."
Although Mattis did not identify the type of missile, he said it was not of intercontinental range, meaning it could not reach US territory. However, an official told AP on condition of anonymity that the missile was a Scud variety which the US calls a KN-17.
Mattis also did not comment on what might have caused the missile to fail.
The defense secretary credited China with trying to help get the North Korean situation "under control," with the goal of denuclearizing the peninsula.
As part of his hardline stance against North Korea, Trump announced last week that he had sent an "armada" as a warning to Pyongyang.
For its part, North Korea has accused the US of disturbing global peace and stability by using "gangster-like logic" which may result in a nuclear breaking out on the Korean Peninsula "at any moment."
You can share this story on social media: