Iraq vet sues Army in class-action suit over PTSD-related discharges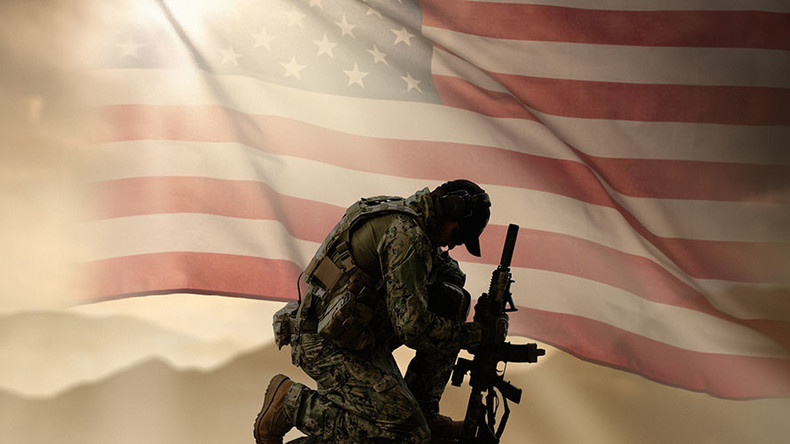 A decorated veteran diagnosed with post-traumatic stress disorder following the Iraq war has filed a class-action lawsuit against the US Army, saying he has scant ability to upgrade his "under honorable" discharge given to him as he wrestled with PTSD.
Lead plaintiff Stephen Kennedy, recipient of the Army Achievement Medal and founder of the Connecticut chapter of Iraq and Afghanistan Veterans of America, filed the suit on Monday in US District Court, calling on the Army to adjust its procedures for assessing discharge status of veterans who have been diagnosed with PTSD after stints in America's latest ground wars, according to Connecticut Health I-Team (C-HIT).
The class-action suit could affect tens of thousands of the Army's Iraq and Afghanistan war vets who, since April 2002, were discharged with classifications including General Under Honorable and Other Than Honorable but who were diagnosed with service-related PTSD after the discharge, according to Helen White, attorney for the plaintiffs and student at the Yale Law School Veterans Legal Services Clinic.
The lawsuit alleges that the Army has not followed its own policies that aim to allow vets who have been diagnosed with PTSD following an under honorable discharge to retroactively upgrade their discharge status. In 2014, then-Defense Secretary Chuck Hagel instituted new rules directing military review boards to offer "liberal consideration" to such vets who seek to renew their discharge status based on a PTSD diagnosis.
Less-than-honorable discharges come with high stakes for veterans, making them ineligible to receive G.I. bill benefits while affecting their ability to re-enter the Army, access health care provisions and property tax exemptions as well as other perks offered to vets.
For his part, Kennedy, 31, a doctoral student at New York University, says his Other Than Honorable discharge has cost him a potential $90,000 in G.I bill education benefits. He said the process of upgrading a discharge is out of reach for many vets later diagnosed with PTSD.
"The process is a huge burden to put on anybody. If you're having mental health difficulties, it's impossible," he said, according to C-HIT.
Kennedy says his mental health deteriorated to the point of deep depression, substance abuse and self-cutting upon returning to the US from service as a sergeant in Iraq. While fighting the effects of PTSD in 2009, he left his base, at Fort Bragg in North Carolina, without proper authorization to attend his own wedding and honeymoon. For this, he was demoted, docked two months' pay and eventually discharged based on the base's lack of resources to care for him.
After years of psychiatric counseling and medication, he was diagnosed with PTSD by doctors both in private practice and with the Department of Veterans' Affairs. Kennedy eventually attempted to apply for a discharge upgrade, once in 2009 while battling PTSD effects and then again in 2015 when he was in a better mental state, he said. In the latter attempt, the Army Discharge Board voted 3-2 against an upgrade.
In December Kennedy sued the Army in search of a court-ordered discharge upgrade for himself. The latest lawsuit is an amended, class-action version of that suit, according to C-HIT. In response to the first lawsuit, the Army claimed Kennedy did not exhaust intra-military options for receiving a discharge upgrade, also saying that such issues should not be decided in civil court. The Army also admitted that it had lost four documents supplied by Kennedy in relation to his 2015 upgrade hearing.
From 2002 to 2013, 81,997 enlisted Army service members received General Under Honorable discharges, according to Department of Defense data, C-HIT reported.
"What makes [Kennedy's] case so compelling is he did everything he was supposed to do in a discharge upgrade proceeding—letters from therapists, evidence of honorable service, and a personal statement explaining the link between his PTSD and his AWOL," said White, of the Yale Law School Veterans Legal Services Clinic.
She added: "If he can't be successful, it's extremely unlikely that other veterans are getting proper adjudications from the board."
Previously, the Yale Law School Veterans Legal Services Clinic was successful in seeking discharge upgrade requests for five Vietnam war veterans who, similar to Kennedy, had been diagnosed with service-related PTSD following their less-than-honorable discharges.