Fort Lauderdale attacker 'lost his mind in Iraq,' say family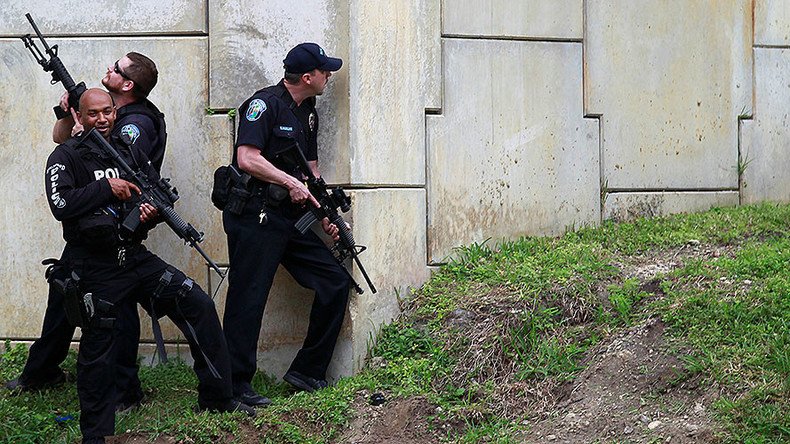 Family members of the Fort Lauderdale airport attacker Esteban Santiago-Ruiz have said that he suffered severe mental health problems following his tour of duty in Iraq.
Santiago-Ruiz, 26, who killed at least five people and wounded eight during a shooting rampage at Fort Lauderdale Airport in Florida on Friday, "lost his mind" in Iraq, his aunt has said.
Maria Ruiz Rivera told NJ.com that her nephew, who was born in New Jersey and living in Alaska, was hospitalized for mental health issues after returning from Iraq, where he was on tour with the Puerto Rico National Guard from April 2010 to February 2011.
Ruiz Rivera said he appeared to be doing well, particularly following the recent birth of his son. However, she said that "he lost his mind in Iraq."
Her husband, Herman, said he had no idea why the 26-year-old launched the attack: "Only thing I could tell you was when he came out of Iraq, he wasn't feeling too good." Esteban's brother Bryan, who lives in Puerto Rico, added that the gunman had recently been receiving psychological treatment while living in Alaska.
Santiago-Ruiz flew from Alaska to Fort Lauderdale legally carrying a handgun in his checked luggage. He loaded the gun in the toilets before opening fire in the baggage claim area, according to a county official. Witness Mark Lea said the shooter was completely silent during the attack.
Speaking on Saturday, Governor of Florida Rick Scott said that many of the victims of the Fort Lauderdale shooting are fighting for their lives. "I know we don't have an answer. I don't know if we'll ever have an answer to an evil attack like this," he said.
Santiago-Ruiz was found with an active military ID when he was apprehended, unharmed, on Friday.
According to The AP, he recently told the FBI that the government was controlling his mind and was forcing him to watch Islamic State group videos. However, FBI sources told CBS that they found he had no connection to terror groups.
The bureau reportedly interviewed the 26-year-old, who took him in for a mental health evaluation.
Santiago-Ruiz served in the Alaska National Guard but was given a general discharge for unsatisfactory performance last August. CBS are also reporting that he was investigated as part of a child porn investigation in the years following his return from Iraq but no charges were filed.
Research on veterans of the Iraq war suggests that almost one-fifth of troops likely suffer from PTSD after they return. Veterans are also at risk for other mental health problems, with studies estimating up to one in four returning troops suffer from depression.
A 2008 RAND corporation study of nearly 2,000 veterans from Operation Enduring Freedom (OEF) and Operation Iraqi Freedom (OIF) found 14 percent suffered from PTSD and 14 percent were struggling with major depression.
Family members of veterans who have died by suicide have been very critical of how the Department of Veterans Affairs provides mental health care to former soldiers.
You can share this story on social media: