80 years, 1,500 deaths: Suicide deterrent nets going up at Golden Gate Bridge
Published time: 14 Apr, 2017 19:39
Edited time: 15 Apr, 2017 18:40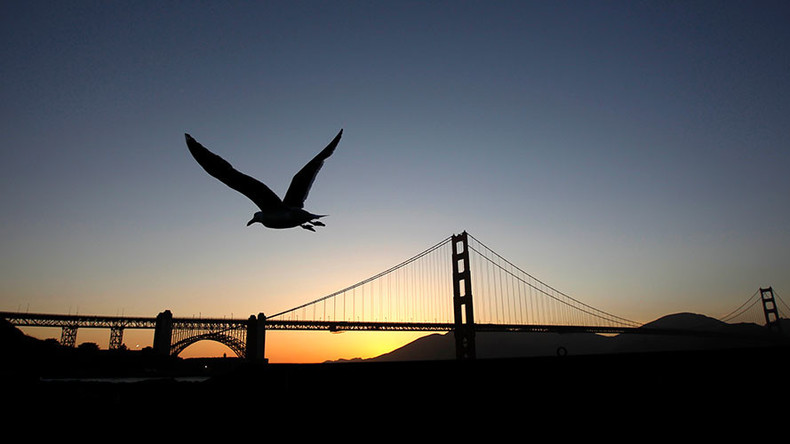 Work crews are set to begin attachment of a stainless steel net to the Golden Gate Bridge in order to deter further suicide attempts from San Francisco's internationally-renowned landmark.
Bay Area officials, including US House Minority Leader Nancy Pelosi, and families of people who have jumped to their death were on hand Thursday to mark the beginning of work on the so-called "deterrent nets."
The barriers will protrude 20 feet from both sides of the 8,981-foot bridge, at about 20 feet below the Golden Gate's sidewalk.
Construction will take about four years at a cost of $211 million, according to reports. The funding comes from state and federal sources.
"People would say to us, 'Isn't that a lot of money for a barrier? For a net?' And I would say, 'No it's not a lot of money for a life. For all of these lives'," said Pelosi.
"Together we are acting on a deep moral imperative to save lives wherever we can," she added.

More than 1,500 people are believed to have died by falling or jumping off the 80-year-old bridge since it was built. There were 133 attempted suicides in the first half of 2016 alone, the San Francisco Chronicle reported, with 112 of those people stopped by Bridge Patrol agents. Overall, 39 people committed suicide at the Golden Gate Bridge in 2016.
Young people under the age of 25 have increasingly flocked to the bridge to attempt suicide, according to the Golden Gate's Bridge Patrol Department.
Past studies have indicated that those who unsuccessfully attempt suicide are highly unlikely to kill themselves at a later date, KPIX reported.
"Today marks the beginning of the end of suicides on the Golden Gate Bridge," said Kymberlyrenee Gamboa, whose 18-year-old son jumped off the bridge to his death in 2013.
Suicide at the Golden Gate Bridge has long been a subject of fascination in popular culture. Rock songs and a documentary have explored the phenomenon. There is about a 98-percent fatality rate for those who take the four-second, 245-foot fall into the San Francisco Bay, according to past reports by the Chronicle.