'No criminal liability': Cali cops who killed mentally ill man back to full duty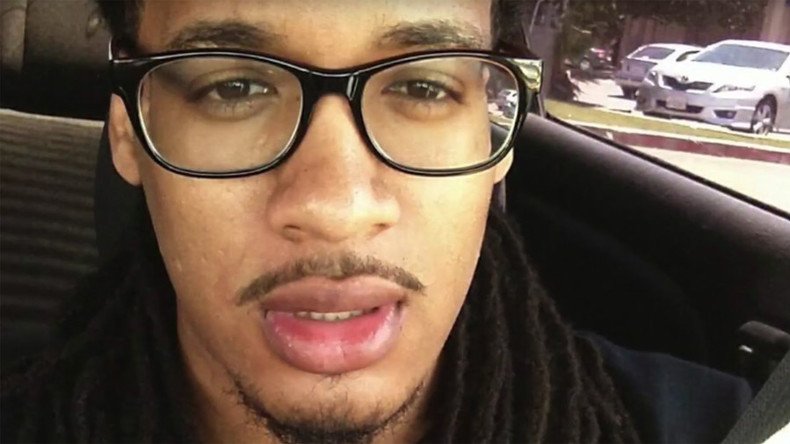 Police officers in Chico, California, were justified in using deadly force to subdue a man they claim was a grave danger to officers and family, the district attorney says. The man's family, however, calls it a race-influenced murder.
Butte County District Attorney Mike Ramsey has determined that Chico Police Department officers Jeremy Gagnebin and Alex Fliehr have "no criminal liability" for the March 17 fatal shooting of Phillips, 25, who was in the throes of a mental health "episode," according to his family. The officers have returned to "full duty," according to Chico Police Chief Mike O'Brien.
Phillips, a black man, was shot 10 times amid 16 bullets fired at close range after the officers, both white men, forced their way into the apartment of Desmond's father, David, believing Desmond posed a threat to family members and to the officers themselves, according to Ramsey.
The officers claimed in a police report that when they broke through the front door, Phillips "rapidly and aggressively advanced on (the officers) swinging his arms in a windmill fashion as he ran toward them." A Taser was deployed, but Phillips "quickly" got up and "advanced" on them with a kitchen knife in one hand and, in the other hand, a splintered wooden doorjamb that had broken off the door when the officers broke through. Officers then opened fire, approximately eight seconds after shooting the Taser.
Ramsey said at a news conference Thursday, that officers "preformed consistent with their training and experience,"according to the Chico Enterprise-Record. "A knife attack is a lethal attack."
At the two-hour news conference, Ramsey offered findings of the investigation including police radio traffic and 911 calls made by David Phillips.
"Did you hit him with a Taser?" David Phillips said on a 911 call during the shooting. He added: "Man, I told you he was mental. Did you kill my son?"
Desmond's father has said he was seeking help or medicine for his son and that the force used by police was not necessary.
Medics and firefighters had originally arrived at the apartment to address Desmond, who was dancing in the living room in a "trance-like state" and wearing headphones and sunglasses, Ramsey said Thursday. Desmond would not leave with the medics, and "suddenly became animated with punches and swings of his arms and hands," according to Ramsey, when medics attempted to touch him. Firefighters then called for police.
The family has said Desmond was not a threat to anyone in the apartment on March 17, including David Phillips, who told a 911 dispatcher that he was locked in one room and his two grandchildren, ages 18 and 12, were locked in another while Desmond was having the episode.
"My son didn't have no wooden object in his hand. He didn't have no damn knife in his hand," David Phillips told the Enterprise-Record this week. "They kicked that door in. They tased him. Two seconds later, my son was hitting the ground. Dead."
Ramsey countered this point, saying David Phillips himself had said during a 911 call that Desmond had tried to stab him and that he and his grandchildren could not leave the rooms. "He's trying to stab me now. Come through the window," David Phillips said during the last 911 call.
David Phillips has declined to be interviewed by investigators. He has said Ramsey's involvement in such an investigation is a conflict of interest, because he works closely with police and they "take care of their own."
The police officers "took it upon theirself to be the judge, the jury and the executioner," Phillips said this week before Ramsey's announcement. "Serve and protect. Not seek and destroy. And that's what they did. They came to murder somebody and that's what they did. It was murder. That's all it was. It was hate. Anybody who shoots somebody that many times, how can you explain that?"
The Phillips family believes race played a factor in the fatal police shooting. Had Desmond been a white man, police would have attempted to talk to him "or try anything they could instead of just going and murdering that child," David Phillips said this week.
The family says that, prior to March 17, they had called 911 multiple times for assistance during Desmond's episodes, with mixed results. Police have "been here a couple times," Latisha Williams, Desmond Phillips' sister, told the Enterprise-Record. "And a couple of them seemed like they wanted to use their weapons."
Adding to the tense situation was Desmond's fear of police, which stemmed from previous, at times violent, encounters, his family says.
"See, my son is paranoid from the police," David Phillip told the Enterprise-Record. "He's scared. He got beat before by the police — first time — that's why I moved him here" from Sacramento. He added that Desmond "was having his mental issue, and when he heard police that's when he went and got a knife."
Chief O'Brien called the fatal shooting a "tragedy for the Phillips family, a tragedy for the community and a tragedy for this Police Department."
"Officers were asked to stop someone, Desmond Phillips, who had now become a deadly threat," O'Brien said Thursday. "A deadly threat to children, a father and ultimately to those officers. The request and need for immediate action was made clear."
O'Brien admitted that current mental health protocol in response to situations such as Desmond's episode is currently "inadequate," the Enterprise-Record reported. But, he added, "we cannot wait for mental health intervention when weapons are involved, other lives are threatened and those in crisis are nonresponsive and violent."
A 2015 report by the Treatment Advocacy Center, a non-profit committed to removing barriers to timely and effective treatment for severe mental illness, found that those with untreated mental illness account for 25 percent of all fatal police encounters.
"At this rate, the risk of being killed during a police incident is 16 times greater for individuals with untreated mental illness than for other civilians approached or stopped by officers," the report said.
You can share this story on social media: