US sending F-35 jets to Europe for 'training'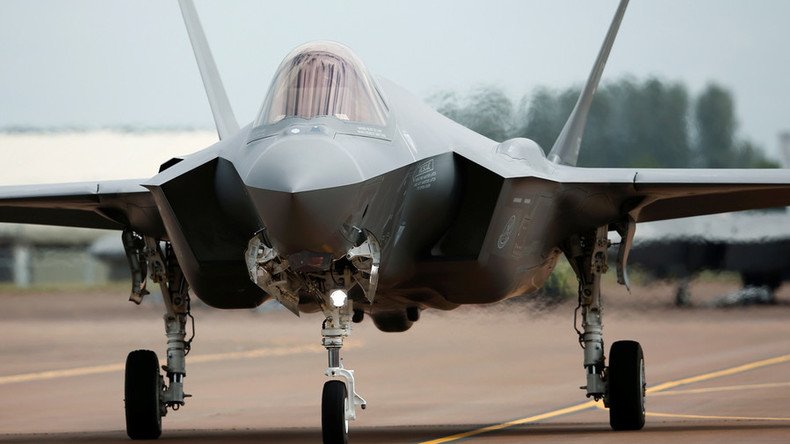 A "small number" of F-35 stealth fighters will be sent to Europe for a planned NATO exercise, the US Air Force has announced. The move comes amid renewed tensions with Russia following the US missile strike in Syria.
"The US Air Force will deploy a small number of F-35A Lightning II aircraft this weekend on a long-planned training deployment to Europe," the Pentagon said in a statement, quoted by Sputnik.
The deployment will last several weeks and is part of the European Reassurance Initiative, a US build-up of troops and weapons in Europe launched in 2014 to "deter Russian aggression."
Air Force sending some F-35's on "a long-planned training deployment to Europe" this wknd, USAF says. (Translation: don't freak out, media.)

— Kevin Baron (@DefenseBaron) April 14, 2017
Though apparently scheduled months in advance, the deployment was announced as relations between Washington and Moscow have been described as "at an all-time low" by US President Donald Trump.
"We're not getting along with Russia at all,"Trump said on Wednesday, after meeting with NATO Secretary-General Jens Stoltenberg in Washington on Wednesday.
Trump ordered the April 6 cruise missile attack against a Syrian airbase, blaming the government in Damascus for the April 4 chemical attack in Idlib province. In response, Russia suspended the "de-confliction" arrangement with the US military, which was established in October 2015.
Anticipating a Russian or Syrian response, the US-led coalition has drastically reduced the number of strikes against Islamic State (IS, formerly ISIS/ISIL) in Syria. There have been no threats to coalition planes or troops, however, according to Colonel John Dorrian, spokesman for Operation Inherent Resolve.
Envisioned as the fifth-generation jet with a modular design, the F-35 comes in three variants. The F-35A is the Air Force model, designed for conventional runways and declared combat-ready in August 2016.
The US Marine Corps' variant, F-35B, was the first to be declared operationally capable. Lockheed Martin is still working on the F-35C, intended to operate from US Navy carriers.
Critics of the jet point to its astronomical price tag and underwhelming performance compared to dedicated older aircraft models, which the Pentagon aims to retire once all F-35 variants become fully operational.
You can share this story on social media: